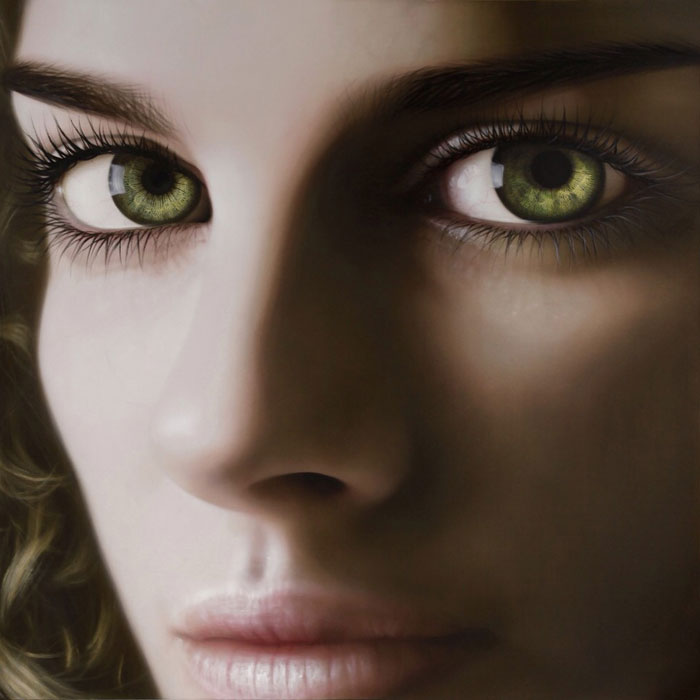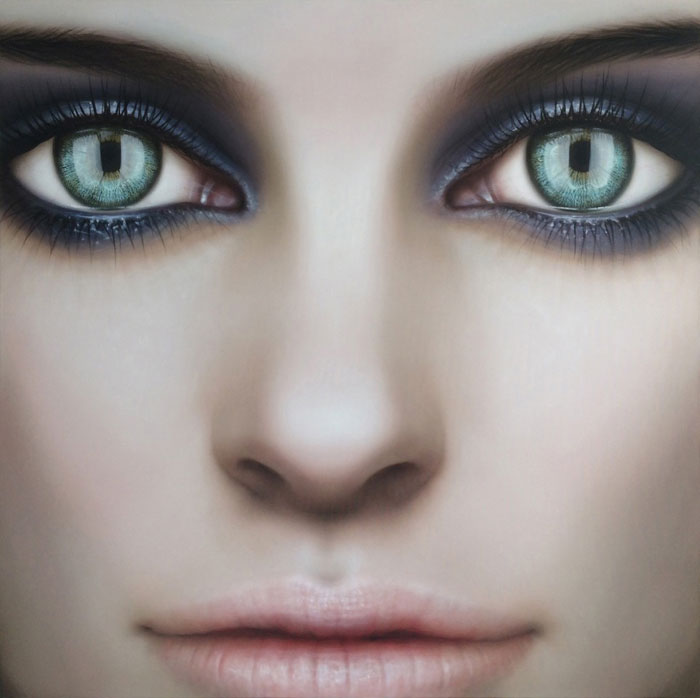 MACHIKO EDMONDSON

The paintings of Machiko Edmondson mimic the styles and codes of the 'desire industry' while questioning the value and obsessions of so-called perfection.

Edmondson refers to her practice as 'a representation of painting'. The paintings being 'hyperreal' rather than merely representational.

Despite the use of the face as image source, she regards her work as neither purely figurative nor portraiture. The works employ the momentary sensation of fashion photography to lure the viewer into a world of idealised beauty and yearning.

Just as in Fashion Photography where the model is a support for the product and contextualises it, such images also support and put into context Edmondson's canvases. Although seductive, the supposed ideal they present becomes hyperreal: the image is somehow devoid of identity and the paradoxically empty facade, which is quickly consumed by the eye, gives way to the anxiety and obsessional viewpoint that assert these canvases as 'paintings'.

Beyond the image which gives them their presence, what is being portrayed is the premise of the aspirational perfection of painting itself. The viewer engages with these works as the eye scans the surface, shifting the reading between fantasy and the tropes of modernist abstract painting; concentrating on the skin of the image and the skin of the painted surface. The works become objects of unattainable desire.

Since graduating from Goldsmiths University with an MFA in 1995, Edmondson has been exhibited internationally alongside Alex Katz, John Currin, Elizabeth Peyton, Glenn Brown, Peter Doig, Yinka Shonibare, Jeff Koons, Tony Oursler, Takashi Murakami, Yoshitomo Nara, Cindy Sherman, Mariko Mori, Marlene Dumas, Michael Craig-Martin, Mark Wallinger and Andy Warhol.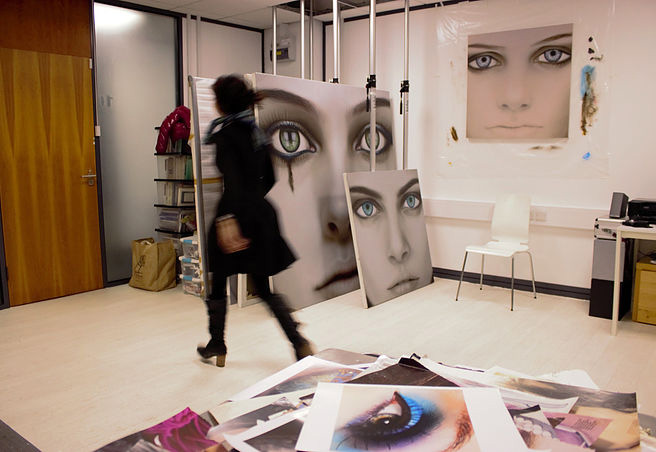 1993-1995 MA in Fine Art, Goldsmiths College, University of London, London, UK
1989-1992 BA in Fine Art, Camberwell College of Arts, London, UK
1981-1985 BA in Art and cultural studies, Tama Art University, Tokyo Japan


SOLO EXHIBITIONS

2010 Nicholas Robinson Gallery, NY, USA
2007 Marksman Gallery, Reading, UK
2006 Gibsone Jessop Gallery, Toronto, Canada
2005 the apartment, 'Is This Desire?', Athens, Greece
2001 Habitat Art Space, 'Taut', Kings Rd, London, UK
2000 Axel Theime Gallery, Darmstadt, Germany
1998 Laurent Delaye Gallery, 'Behind Disguise', London


GROUP EXHIBITIONS

2014 'Accrochage', Galerie Peter Zimmermann, Mannheim, Germany 2013 'Outside Outside', Curated by Elizabeth Wright, Giorgio Sedotti, Clair Joy

Mecklenburgh Square London WC1, UK 2010 'Plastic Culture -Legacies of Pop 1962-2008', Part 3,

Bradford1-Bradford Museum, Bradford, UK 2009 'Plastic Culture -Legacies of Pop 1962-2008', Part 2,

The Exchange-Newlyn Art Gallery, Cornwall, UK 'Plastic Culture -Legacies of Pop' 1962-2008, Part 1,

Harris Museum, Preston, UK (Rachal Bradley, Nicola Carvell, M Edmondson, Faile, Gajin Fujita, James Howard, KAWS, Richard Kirwan, Jeff Koons, Mariko Mori, Takashi Murakami, Yoshitomo Nara, Jack Newling, Tony Oursler, Monique Prieto, Fiona Rae, Miho Sato, Cindy Sherman, Bridget Smith, Hiam Steinbach, Daniel Sturgis, Andy Warhol, Gary Webb)

2007 'Group show', Sander Collection, Berlin, Germany, (John Currin, Marlene Dumas, M Edmondson, Kiki Smith)

2007 'Group show', Baro Cruz Gallery, Sao Paulo, Brazil (Carl Andre, George Baselitz, Alighiero Boetti, Michael Craig-Martin, Jason Martin, Yoshimoto Nara, Thomas Scheibitz.)

2006 'Salon Connections', 20 Rivington Street Gallery, London, UK

2006 'Crossing the Borders', Greek State Museum of Contemporary Art, Thessaloniki

2006 'Sweetness & Light', Marksman Gallery, Reading, UK (Patrick Caulfield, Brain Donnely,

M Edmondson, Matt Franks, Brian Griffiths, Gerard Hemsworth, Paula Kane, Yoshitomo Nara, Cindy Sherman, Daniel Sturgis)

2005 'London Painting' (cat), Holly Snapp Gallery, Venice, Italy

2003 'Faces', Mark Jason Gallery, London, UK

2004 'Show Down', Hengrove Art Space, Bristol, United Kingdom

'Cinderella', Trailer, London, UK

2003 'Painting Per Se' Part 2(cat.), Oscar Cruz Gallery, Rio de Janeiro, Brazil

Painting Per Se Part 1 (cat), Andre Millan Gallery, Sao Paolo, Brazil

2002 'Painting as A Foreign Language', Centro Brasileiro Britanico, Sao Paolo, Brazil curated by Gerald Hemsworth ( Liz Arnold, Glenn Brown, John Chilver, Peter Davies, Machiko Edmondson,

Jane Harris, Richard Kirwan, Simon Linke, Brad Lochore, Alain Miller, Paul Morrison, Michael Readecker, Perry Roberts, D.J. Simpson, Daniel Sturgis, Bob & Roberta Smith, Mark Wallinger, Clare Woods)

'Soul Windows', curated by Roy Exley, DomoBaal, London, United Kingdom

'The Most Dangerous Game', Rhodes and Mann Gallery, London, UK 2001 'It's a Wonderful Life', the apartment, Athens, Greece

'Group Show', Galeria Mário Sequeira, Porto, Portugal 2000 'Signs' Axel Thieme Gallery, Darmstadt, Germany 1999 'superNATURAL', Stills Gallery, Edinburgh, Scotland

'Group Show', Archimede Staffolini Gallery, Cyprus 1998 'Relative Values', Part 1, Rangers House Museum, London, UK

Relative Values Part 2, Harris Museum, Preston, UK 'Alice', Cornerhouse, Manchester, UK 'Alice', Part 2, The Nunnery, London, UK

1997 'What' (cat.), Trinity Wharf Art Space, London, UK ( Including: Yinka Shonibare)

1996 'Face to Face', Victoria Miro Gallery, London, UK (Including: John Currin, Alex Katz, Elizabeth Peyton)

1995 'British Art in America'Raw Gallery, NY, NY, US

1994 Whitechapel Open, Whitechapel Gallery, London, UK

1994 Unplugged, Unit9 Space, London, UK (M Edmondson, Richard Kirwan, Jane Ormerod, Daniel Sturgis, Neal Tait)

1994 Pet Show, Union Street Gallery, London, UK

INTERNATIONAL COLLECTIONS

David Teiger Collection, USA Felicity Waley-Cohen Collection,

UK Birgid Hanson collection, UK

Joao Tovar Collection USA/Monaco

Walker Art Center(Ralph W Burnet)

USA The Seavest Collection, USA
Sander Collection, Germany
Frank Cohen Collection, UK
Keith Tyson Collection, UK
Polly Robinson Gaer, UK
Warren Miro, UK
Finklestein Collection, NY, USA
Bill Roedy (MTV Europe)
Charles Diamond, UK
Roberto Marziale, Switzerland
Groucho Club, UK

SELECTED BIBLIOGRAPHY

'It's a Wonderful Life', αθνωοπαυα, 2001

Αρψαρα, Κατια, It's a Wonderful Life, TO BHMA, 2001
Jones Jonathan, 'SuperNatural', The Guardian, January 1999
Clerk, Robert, 'Alice', The Guardian, August 1998
Cypriano, Fabio, 'Painting as Foreign Language', Folha De S. Paulo 2002

The Cyprus Weekly, Group show at Archimede Staffolini Gallery, 1998

Coomer, Martin, 'What', Time Out, 1997
Dent, Adam, The London High Art Socio-Cultural Observatory Art Gang Resister, Art Review, 3003
de Ville, Nick, Malcolm Morley- Life After Death, Modern Painters, 2001
Doupas, Vassilios, Machiko Edmondson: 'Behind Disguise', KLIK, March 1999
Duff, Helen, Childhood Innocence is Adult Bliss, The Guardian, July 1998
E, C, 'Soul Windows', Art Review, 2001
'It's a wonderful life', ΕΟΝΟΣ, 2001
Foster, Stephen, 'Painting as Foreign Language', Contemporary, 2002
Gayford, Martin, The New Face of Paint, The Telegraph, July 2001
Gerogianni, Irene, 'Is This Desire?' Contemporary, April 2006
Guha, Tania, Alice, Time Out, September 1998
Guha, Tania, 'Unplugged', Time Out, 1994
'Home', Art Monthly, 1997
Hubbard, Sue, 'Face to Face, Time Out, 1997
Hubbard, Sue, Solo exhibition at Circuit Gallery, Time Out, 1996
Kathimerini, Alexandra, 'It's a Wonderful Life', The Guide (Greek), 2001
Kend, Sarah, Whitechappel Open, Time Out, 1994
Leris, Sophie, Mad For It: The Frank Cohen Collection, Art Review, March 2003 Lillington

David, 'Pet Show', Time Out, 1994
Looking At Music, Special Issue, Modern Painters, Summer 2003
Maison & Decoration, 2002
Mahoney, Elisabeth, 'superNatural', The Guardian, June 30, 1999
Μαρκολπ, Μαρια, 'It's a wonderful life', TA NEA, 2001
Nutting, Victoria, THE FACE Magazine, September 1998
'It's a wonderful life', Playboy (Greek) 2001
'Soul Windows', Pluk, 2002 Group show at Archimede Staffolini Gallery, Poltis, 1999
PULP, September 1998 *
Saraiva, Renata, 'Painting as Foreign Language', Valor, 2002
Smith, Caroline, Wonderland, Attitude, May 2001
The Times, Art 98, 1998
Time Out, 'Relative Values', 1998
Tozer, John, 'Home', Art Monthly, 1997
Zefkili, Despina, Young British Artists in αθνωοπαμα , March 2001
Wilson, Andrew, Whitechapel Open, Art Monthly, 1994

CATALOGUES/PUBLICATIONS

Two Faced -The changing face of portraiture, 2007 London (includes: Rankin, David Shrigley, Nico)
Painting Per Se, 2003. Oscar Cruz Gallery, Brazil.
'Colour it!' (Save the Children) publication supported by Modern Painters & The Guardian.
Space Cook, (Recipe books by artists. Edited by Stephen Hepworth in aid of Space Studios, London 2002)
Painting as A Foreign Language, 2002. Essay by Suhail Malik
Relative Values, Harris Museum, 1998

WHAT, 1997. Essay by Mark Gisbourne

PROJECTS / AWARDS

2014 "Women on Women" A fund raising auction for Eve's appeal at Christie's, London 2009 A fund raising auction for Children's Cancer and Blood Foundation at Sotheby's NY 2008 US O-1 visa (US visa for Individuals with Extraordinary Ability or Achievement) 2003 Musician Peter Gabriel's 'Baby Man' promotion image

1998 Promotion image for posters and catalogues for WOMAD Festival requested by Peter Gabrial

1998 London Arts Board Award

1994 Project of (musician) Nick Cave

ART FAIRS

2003 Frieze
2002 NADA
2001 Art Frankfurt
2000 Art Cologne
2000 Miami Art
2000 London Art Fair
1998 ARCO
1997 Chicago Art
1996 Artissima
1995-2000 London Art Fair