TIM SHAW:
final day: 7 July
Click here for hi-res images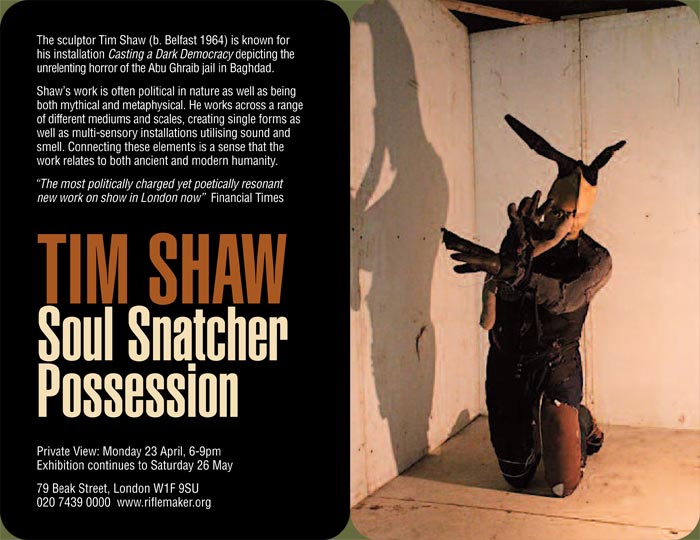 Tim Shaw is one of the great storytellers of British art. No one takes on the contradictions of representation through making in a post-industrial age in quite the way he does.

Shaw ploughs a wilfully solitary, contradictory furrow. Schooled in heavy metal casting, part of a British tradition of monumental sculpture going back centuries, he attacks materials and subjects in a way that feels totally contemporary, creating environments which include sound, light and FX, drawing on rave culture. The tension between tradition and nowness, between solidity and nightmarish breakdown, is an organic part of this artist's worldview, whether he's looking at the atrocities of Abu Ghraib or the sense of primal ritual latent in the landscape surrounding his studio in the remote west of England.

Shaw's work is often political in nature as well as being both mythical and metaphysical. Connecting these elements is a sense that the work relates to both ancient and modern humanity. He works across a range of different mediums and scales, creating single free-standing forms as well as large-scale multi-sensory installations which also utilise sound, light and FX, drawing on rave culture.

TIM SHAW

by Mark Hudson

Tim Shaw's house lies in a dip in the land in the remote far west of England, a stream trickling among trees that spread themselves low over the valley floor, thick with moss and ferns. As we pull up beside the house I glimpse a dark shape among the trees, a torso-like form, large, very black, as though hewn from charcoal.

The doors of the house stand open, mats spread over the granite floor, masks from Bali, Africa and New Guinea peering out of the dimness. A crucifix from Shaw's native Ireland, fashioned from peat, hangs beside a window. Shaw was keen that I arrive here in the late afternoon, so we can approach his newest work in the half-light.

At dusk this place takes on a different character. A dressing-gown hanging on a door can become something demonic. An old jumper caught on a tree, seen from the corner of the eye, can appear intimidating. The mind fills in the rest of the human form, and that, Shaw says, is not a pleasant experience. This sense of primal unease is something he wanted to capture in his new work.

Seated in front of his stone fireplace, Shaw himself is a sculptural presence, his physique compact, his large hands stained by manual labour.

Shaw's studios are hidden away around this area where he has lived for twenty-five years. The door of the first of them, tucked into the corner of a nearby farmyard, creaks open to reveal a thin shaft of light falling onto an extraordinary object that appears part-table, part-monstrous musical instrument – an object which, though it was partly inspired by the artist's interest in medieval music, emits no sound. Middle World, a work that occupied Shaw for five solid years, embodies what he calls 'a twilight zone of the human psyche', between past and present, light and darkness. It brings to mind both Rodin's Gates of Hell in its quasi-gothic format and Gaudi's Sagrada Familia in its awkward amalgam of the organic and the technological. Stalactite forms that appear part-udder, part-organ pipe project downwards from the table plane, which stands at eye-level, cast in cement and peopled with symbolic bronze figures, beyond which rises a cathedral-like portal, where an electric chair, a satellite dish, bombs and engine parts plunge through a plethora of sacred and profane imagery around a central tormented crucifixion, surmounted by an angel which is tiny in actuality, but appears immense in its sculptural context.

Shaw has been described as belonging to the tradition of Modern British Sculpture exemplified by Moore, Chadwick and Armitage. In fact he could hardly be further from their organic formalism. The overtness of his storytelling and symbolism can feel disconcerting in the context of current contemporary art: his works don't trouble themselves with formal or theoretical justifications, but simply set out to realise the imagery felt in his emotional sinew. Yet if his skill in bronze casting and feel for the monumental give the sense of an essentially traditional artist, his ideas on how his work should be seen, in environments involving sound and light, draw on rave culture, while his use of diverse materials, from the precious to the utterly valueless, feels perfectly in tune with the base materialism of the 21st century.

Not everything in Middle World has a literal or easily explicable meaning. People can approach it and take from it what they wish. Among images that appear to draw on ancient Egyptian and Nordic mythology, are some with overtly autobiographical resonances. The sun and moon which recur frequently in the work relate back to his childhood, when his father, a Belfast linen merchant and freemason took him to Masonic halls where such images were, he says, 'prevalent'. The fish-head drummer standing on the central plane conjures the drum-beat of time that measures out human existence, while the fish represents freedom and flow. During the five years of the piece's creation, when he lost track of all imperatives other than to finish the work at virtually any cost, Shaw became prey to severe anxiety attacks. He found that swimming in deep water had a healing effect, and made a fish-head which he took to wearing as he went about his daily activities.

Born in Belfast in 1964, Shaw had a disrupted childhood, and became a disruptive child. The Troubles, during which Northern Ireland was effectively at war, created a backdrop of continual intimidation and threat. Shaw's father died when he was seven, and he was sent away to school, first in Dublin, then Enniskillen. When he was given clay to work with by his art teacher at the age of 15, his first thought was that here was another substance to throw around the classroom. But he became fascinated by the plastic and tactile possibilities of the material. He bought a book on Rodin in Enniskillen's only book shop, read it from cover to cover, and decided there and then that he wanted nothing other than to be a sculptor.

In a second studio a great black figure seems to hurl itself out of the shadows, arms outstretched, a form only partly choate, not so much a person as a cloud of streaming terror and energy: the Man on Fire.

'I remember coming into Belfast on the Westlink a few years ago, seeing columns of smoke rising over the city, thinking I knew that kind of smoke – I recognised it from way back – and making a beeline towards it. The Loyalist community were enraged by the concessions made to the Republicans. I went down a road and the air was boiling with anger. The tarmac had melted, cars were burnt out. In front of me were about a hundred men. I thought, What am I doing going into this? I turned round and got out of there as quickly as I could.'

This incident was just one of a number of triggers for this work: 'the sense of turbulence, the suck of air, when something large is on fire'; seeing a famous series of photographs of a soldier in Iraq burning; the idea of ancient Pompeii as people fled what was about to engulf the city. It is difficult to imagine any other artist taking on this subject with quite this empathic directness, not distancing themselves from the subject by treating it as an idea, but walking a fine line between crass literalness and genuine subjective experience, as he tries to evoke 'that dreadful place between life and death – of being consumed by both states simultaneously.'

Shaw worked with foam, which he mixes himself, using it as a modelling material with a 'volcanic quality'. But the critical medium here, which creates the sense of liquid volatility, is one found on the farm surrounding the studio, black baling plastic, used for baling hay. It also forms the basis of Shaw's best-known work to date, Casting a Dark Democracy, an installation invoking the hell of Abu Ghraib prison, scene of torture and other abuses by American troops in Iraq.

He sees scraps of the black sheeting snagged on barbed wire fences, impaled on winter trees, taking on its own phantom form in the wind; a material that frees him from the solidity and weight of bronze.

Higher up the hillside where the landscape is rawer, rock spilling out of the earth, lichen-encrusted trees still leafless in April, we encounter Shaw's latest and perhaps most powerful work to date. As we enter his third studio, we have a sense of atrocity glimpsed between board screens. But first we encounter two festive figures executing a twisting dance across the main part of the studio: a moment from Bosch or Breugel reseen as a Yoruba masquerade, the leading figure holding a long piece of metal, what might be a kind of ladle behind him, a double shotgun barrel poking from his cloth face – both stuffed into a kind of orange synthetic damask, moving in a curving sinuous flow.

At the Big Chill festival, Shaw saw two people dressed as elves, one with a long spoon, dancing in a 'wild, ridiculous manner in tall pointed hats... 'It was one of many random things that were going on. There was ketamine in the ladle, and the girl with the long proboscis was swooping down on this spoon, like a bee onto a flower. They were both completely trashed. I remember saying to the person I was with that I had to deal with this in some way. I decided to use a soft material as opposed to bronze. It was the first time I worked with fabric. I liked the idea of a stuffed armature, something that was almost a settee, taking on the form of two people dancing on ketamine. It was hallucinatory.'

This work, Ketamine, acts as a lighthearted prelude to the main event, Soul Snatcher Possession, which we encounter just a few feet away, as we pass between two board screens: a blind man with a white stick walking out of one corner of the nightmarishly confined space; a kneeling figure, hands bound, with horn-like cones of cloth projecting from his head and a long trunk-like proboscis; a high-heeled woman slumped against a wall with a male oppressor standing over her; three standing figures surrounding a fourth, the interrogation, the beating, the killing... whatever it is, about to take place. All are life-size, formed from old clothes ripped and crudely resewn over padded armatures, bits of old denim, sportswear, stockings, a prosthetic arm – rags forming masks for the expressionless faces. The first word that comes into my mind is voodoo – a sense of the unearthly that goes beyond the ostensible meaning of the work. I'm reminded of the photographs of another Riflemaker artist, Leah Gordon, of Haitain masquerades, of horned and top-hatted figures evoking a sense of violence and threat that feels cathartic, almost abstract.

In Casting a Dark Democracy Shaw wanted to deal not only with the nightmare of Abu Ghraib, but with 'more timeless and universal things'. With 'Soul Snatcher Possession' the inference is even less specific. The initial impulse came from a violent altercation he heard in the middle of the night, when living in London as a fellow at the Kenneth Armitage Foundation: one of those incidents encountered in half sleep, which you look back on wondering if it actually happened, but which made a great impression. 'It made me ask many questions. There's the real world of concrete things that actually exist, and the world of instinct and intuition, of things you can't see or touch, a place where magic and soul predominate – which is responsible for so many things that are bad as well as good. When I'm making a work like this or Casting a Dark Democracy that's what I'm plugging into.

'The piece is about the taking of the soul or spirit by those with the power to do so, to enforce whatever it is they want to enforce. It's something that applies in the street, and in the corridors of power and commerce. The powerful will succeed in what they want to do. If they want to get rid of you, they'll find a way to do it. It's an aspect of the human condition: a dimension of barbarism in humanity that doesn't disappear. It's what lies behind the way we operate in our supposedly civilised world.'

Mark Hudson is the author of Titian, the Last Days (Bloomsbury). His award-winning books include The Music in my Head, Coming Back Brockens and Our Grandmothers' Drums.
Click here for hi-res images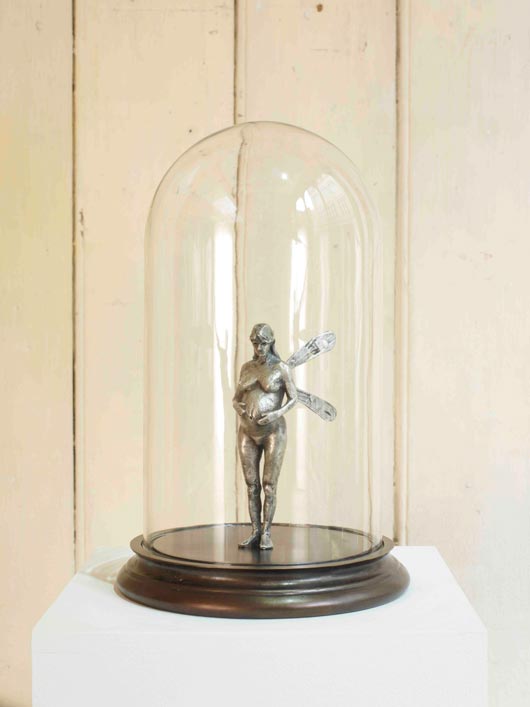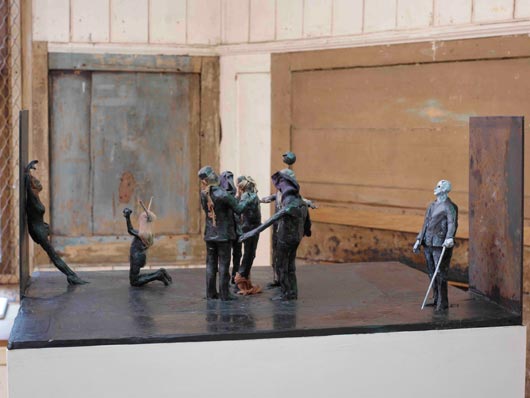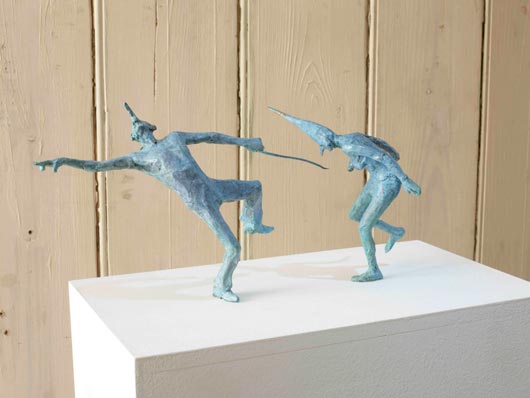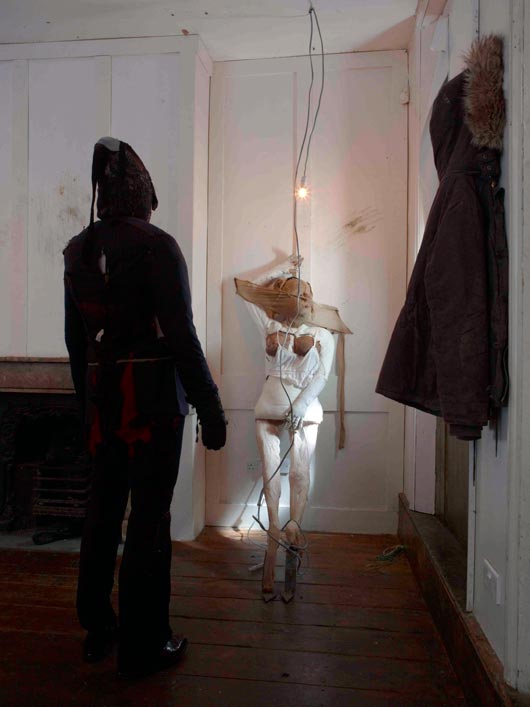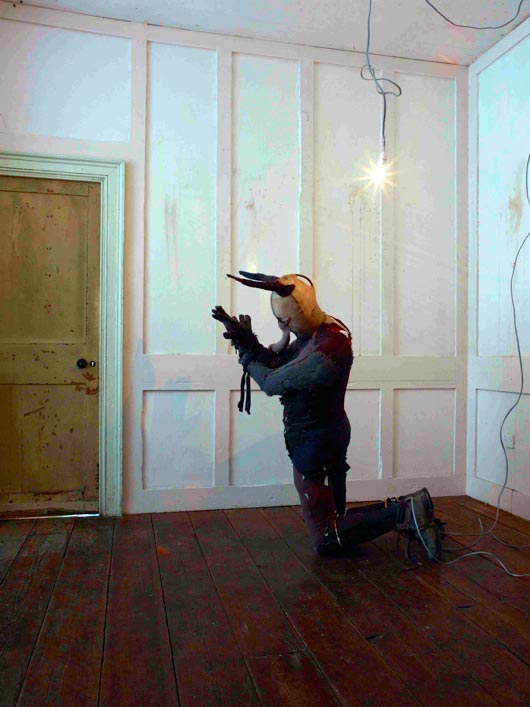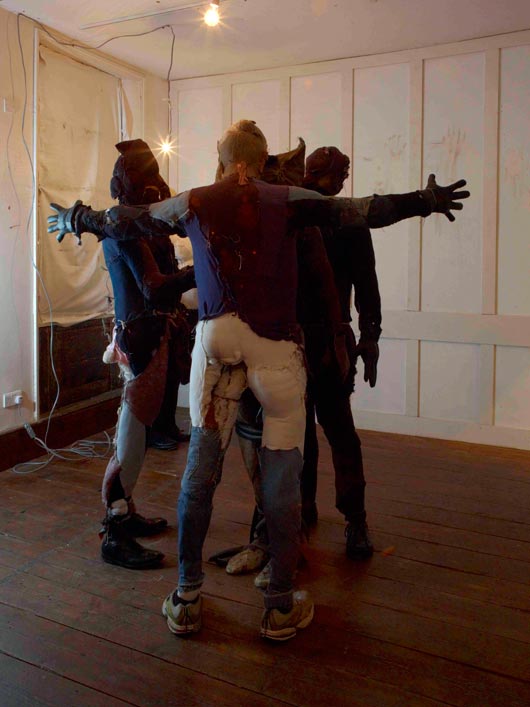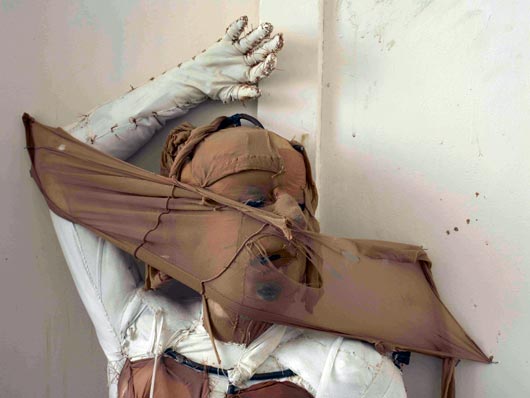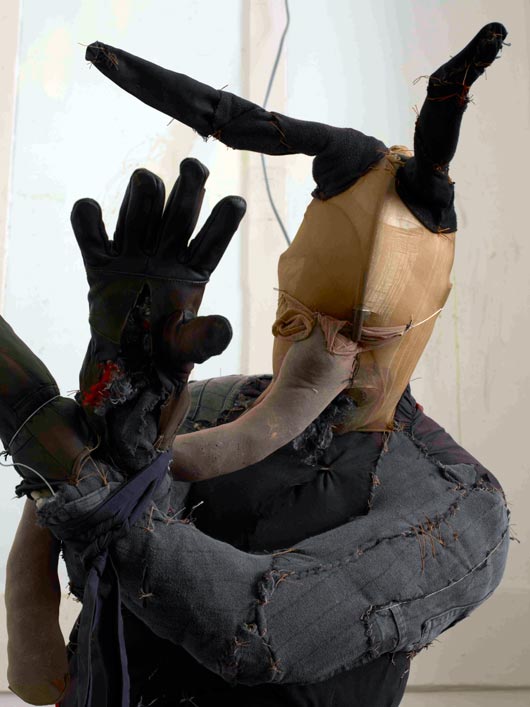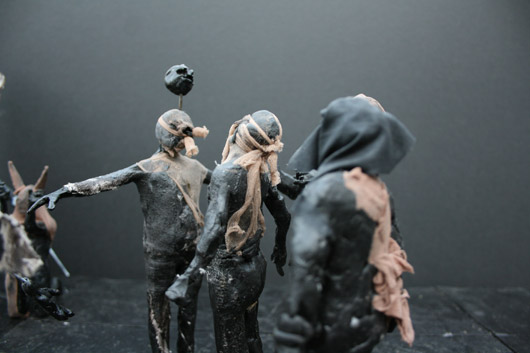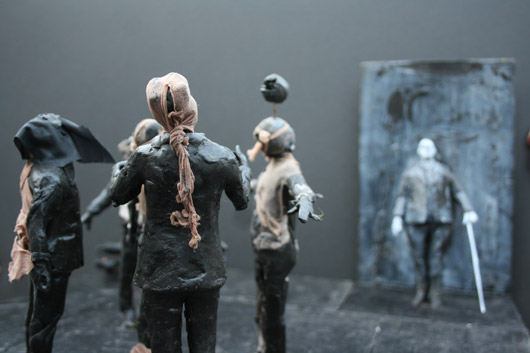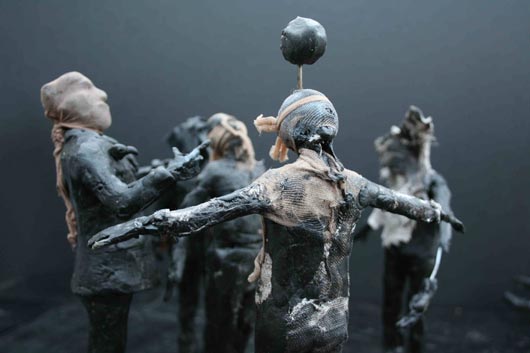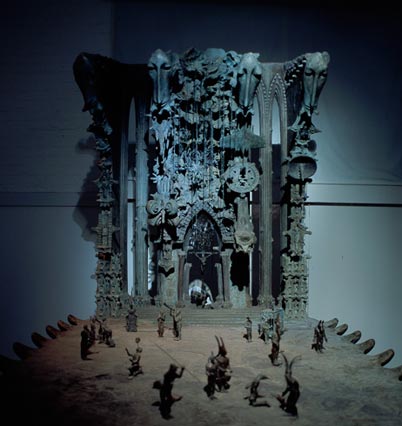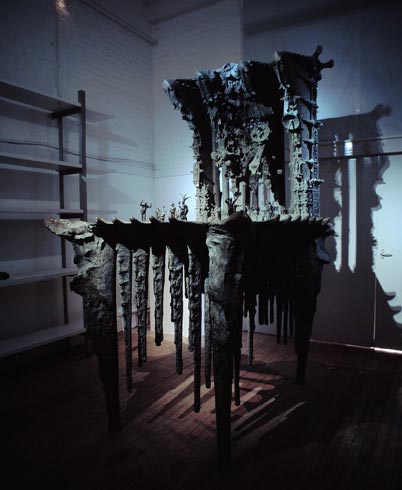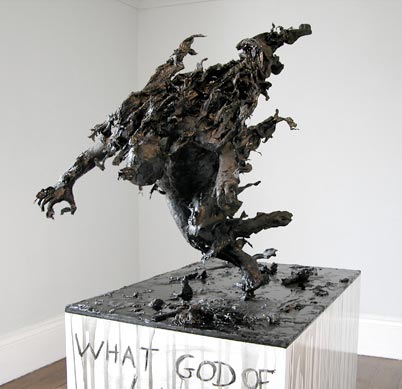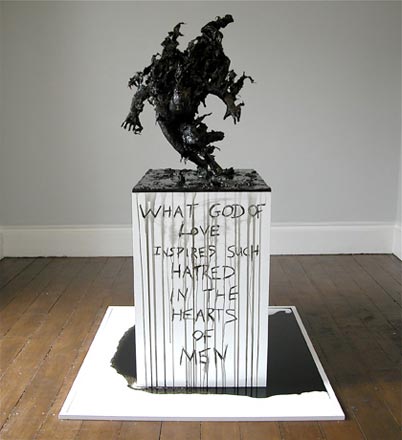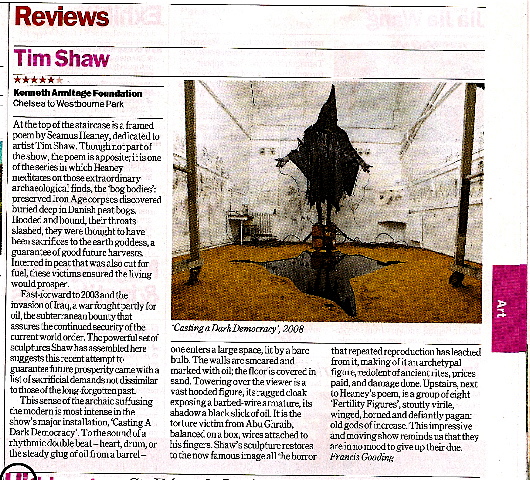 TIM SHAW
Mark Hudson writes:
There's no artist anywhere quite like Tim Shaw. No one takes on the contradictions of representing through making in a post-industrial age in quite the way he does. Born in Belfast in 1964, Shaw is one of the great showmen and storytellers of British art.
His installation 'Casting a Dark Democracy' (2010) has been acclaimed as 'one of the too few works to engage unequivocally with the reality and human cost of the Iraq war'. Yet he ploughs a wilfully solitary, contradictory furrow. Schooled in heavy metal casting, part of a British tradition of monumental sculpture going back centuries, he attacks materials and subjects in a way that feels totally contemporary, rooted in the base materialism and atomised space of the 21st century. And these apparently divergent aspects are one and the same thing. The tension between tradition and nowness, between solidity and nightmarish breakdown, is an organic part of this artist's worldview, whether he's looking at the atrocities of Abu Ghraib Prison or the sense of primal ritual latent in the landscape surrounding his studio in the remote west of England.
The work of Belfast born sculptor Tim Shaw came to prominence via the impact created by his 2007 residency at the Armitage Foundation in West London.
Shaw (b.1964) depicted the unrelenting horror of the Abu Graihb jail in Baghdad. Entering an unprepossessing house in Hammersmith visitors found themselves confronted by the shock of an all too real simulation of the terror cell, an image made familiar by constant press usage - one of the signature images of the war.
Walking from the street into a room filled with sand, bridged by an oil slick and attended by harsh intermittent lighting and a pumping heart-valve soundbed, visitors were struck dumb by the recreation of the cell and the dark almost-sacred atmosphere conjured by Shaw for his abuse nightmare from wrought iron, black baling plastic and straw to cast and bring to life his hooded victim/icon. The shadow across the path of the prisoner in the installation's title
Casting A Dark Democracy
being the pool of crude oil.
In November, Shaw will make his debut at Riflemaker with a Nativity installation set within the street-culture of the sculptor's teenage Belfast years - the mid 1970s.
Tim Shaw has exhibited widely throughout the UK and Ireland. In 2005, he was awarded The Prince's Bursary, and became resident artist at the British School of Athens. The Kenneth Armitage Fellowship followed in 2007. Shaw's work is included in many public and private contemporary collections.
In 2009 he received critical acclaim for his installation
Casting A Dark Democracy
- a depiction of abuse suffered by prisoners in the Abu Graihb prison as detailed by the 2004 Taguba Report.
A NATIVITY: SOUL SNATCHER POSSESSION
opens on Monday 23 November
TIM SHAW
'Casting a Dark Democracy'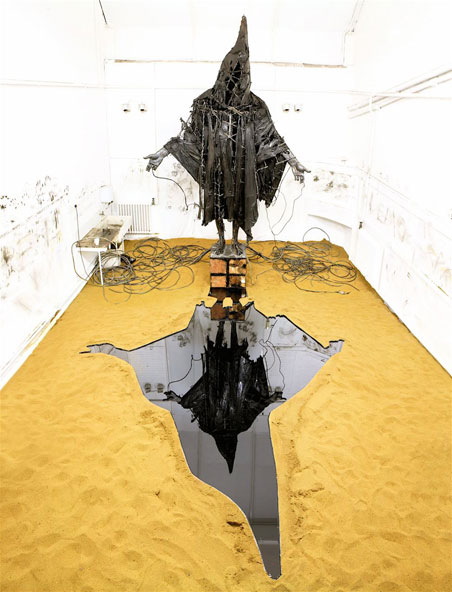 CASTING A DARK DEMOCRACY
Figure (Steel Frame), barbed wire, black Polythene, electrical cable
530 cm (h) x 300 cm (w) x 100 cm (l) 2008

+ Room Installation: oil pool, 600 cm x 350 cm (w), sand on floor, sound, light, mist