Kaori Nakayama
Appearance Disappearance - Macro Micro Forest
16 November 2004 - 10 December 2004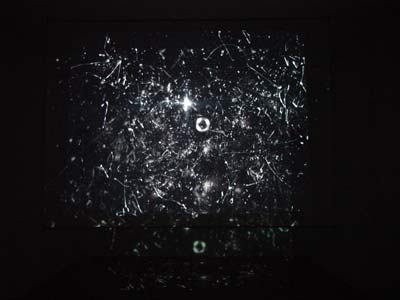 A push and pull that attracts the eye.

The video projection downstairs, 'Appearance / Disappearance - Macro Micro Forest' 2004, by Japanese artist Kaori Nakayama, is concerned with the contradictory, interdependent forces of creation and destruction. Inherent within this most essential of acts is the force that propels our world. The fuel in all creation myths is chaos.

'Appearance / Disappearance – Macro Micro Forest' uses animated contraposto. Renaissance sculptors deliberately juxtaposed opposite postures to draw the viewer's eye through a composition. The same thing happens as the balls bounce against the glass. The push and pull attracts the eye, demonstrating the union of this contradictory action. The repetition of opposing means yields a cohesive end.

The video installation (edition of 3) consists of one DVD recording of ball bearings shattering glass, 2 voile screens, two projectors, one DVD projector, one amplifier, and four speakers. Born in Osaka in 1976, Nakayama moved to London in 1998 for a BA in Fine Art at the University of East London. She just completed a Postgraduate Diploma in Fine Art at the Royal
Academy Schools in 2004.