HARDY BLECHMAN
b. LONDON 1968
'WOODLAND NATIONS'
Camouflaged salon installation using a single US WWII parachute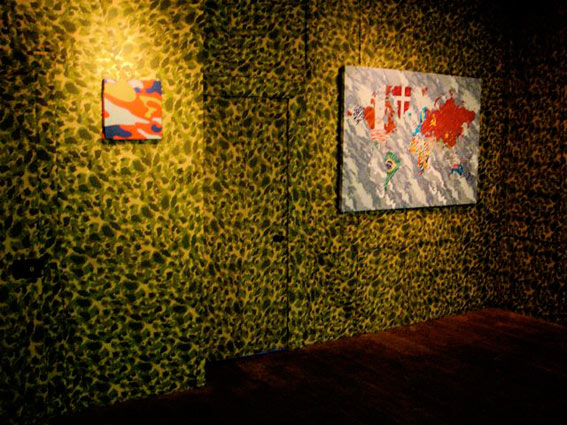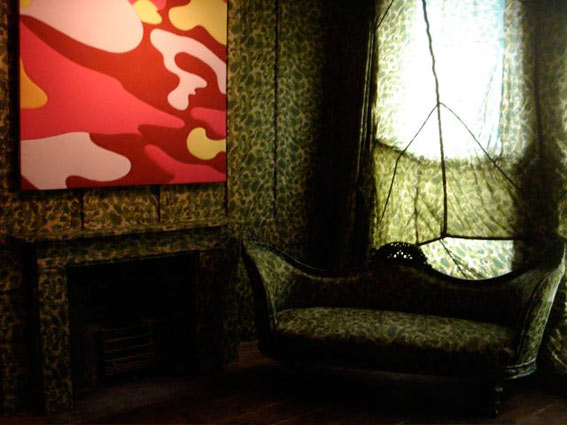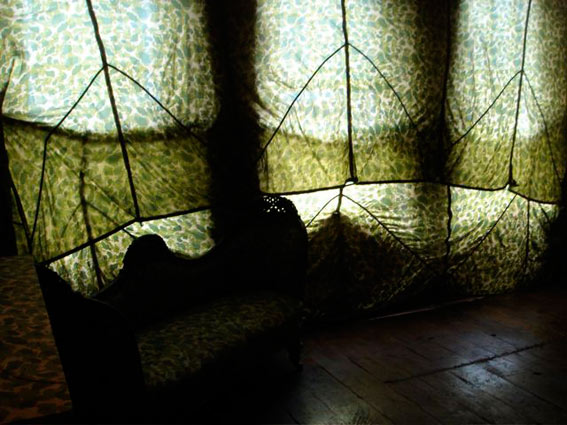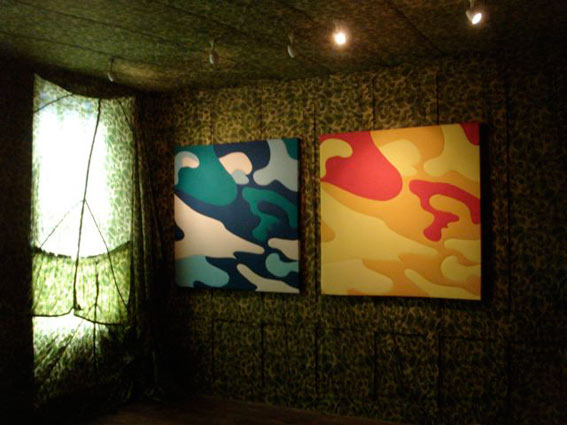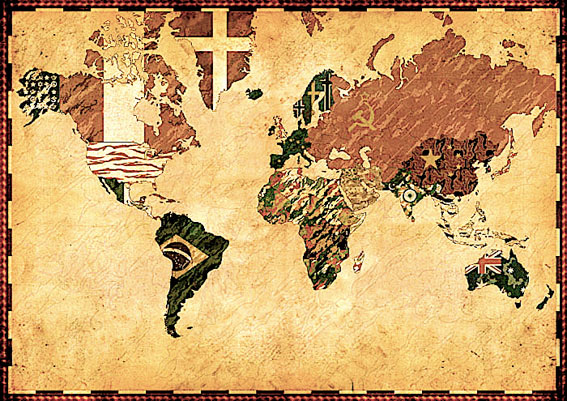 'WOODLAND NATIONS' : Symbolic variations of Camouflage in Art
by HARDY BLECHMAN

A U.S. Army WWII cargo parachute, its purpose to drop tanks from the air, adorns the upper room at Riflemaker. Hardy Blechman's camouflaged salon perfectly illustrates the idea of reversal of function. Camouflage, originally intended for disguise or loss of identity, now identifies. The pattern's dirty greens and greys are sealed into the former gunmaker's Georgian panels creating an aura of cocoon-like protection and shelter, the warmth of nature's own imprint and colour. 'Woodland Nations' points to other more contemporary and familiar functions of Disruptive Pattern Material (DPM); Blechman's own 'combat' designs for his revered Maharishi label.

Hardy Blechman (b.London 1968) recycles military wear by re-dying, re-shaping and adding embroidery; converting tools of war into clothing, toys and art. The paraphernalia of the fan and the enthusiast. Everyday imagery is recycled in much the same way as Warhol used the baggage of consumerism; trademarks, insignia and logos in his work. Camouflage was originally created just prior to WWI. Inspired by Cubism and Vorticism and C19th discoveries in natural history, enlisted artists hoped to gain employment creating the patterns, decorating tanks and gunboats while avoiding active service on the front line.

Blechman's first contact with the Andy Warhol Foundation was while researching his book DPM, a 900 page 'encylopedia of camouflage', which included Warhol's patterned works of the 1980s. These 'Woodland' configurations in lurid pinks and blues from the Warhol archive became the inspiration for a new ongoing series of artworks.

The research for DPM uncovered another important reference. In 1929, the Italians became the first to mass-produce camouflage fabric, the Italian army subsequently issuing the revolutionary 3-colour telo mimetico contours.

Surplus fabric rolls were discovered some thirty years later by Alighiero Boetti in a flea market in Trieste. Boetti exhibited the material as it was, recycling and framing the original fabric untouched. By the 1970's the Italian artist had moved on, using the cross-stitching of Afghani embroidery as his medium in a series of maps of the world which reflected the shifting state of nations in the later years of that decade.

Blechman's bold Pop colours reflect Warhol's 1987 interpretations of the U.S. Army Woodland pattern as well as the hues of each national flag used by Boetti within the sewn outline of each continent. 'DPM: Mappa' portrays the nation's shape, displaying its signature pattern in primary 'flag' colours. Boetti's work addresses the political and economic differences which exist between the west and the third world/Middle East. The maps sing of times both ancient and modern, the technological advances which threaten handicraft, the mass production which closes small family businesses as ancient techniques begin to disappear. Blechman's ethos from the beginning of his career was to recycle utilising technology whilst respecting nature.

In his map works Boetti acted an explorer and philosopher; a likely influence on Warhol's own methods and interests, his 1967 found images, decorative patterns and trade symbols pre-date the mid-60s New York Pop era, plundered, reconfigured and recycled again by Blechman in 2007.

Unlike Boetti's maps, Blechman's 'DPM: Mappa' leaves matters unresolved. What shape and size is Europe in the process of becoming ? What should the 21st century's stars and stripes consist of and what is America's place in shaping the new world ? Blechman offers a 3-dimensional quilted rendition of Warhol while retaining the original 'Pop' colourways. Warhol turned the function of the woodland pattern camouflage on its head, changing its scale and colours to suggest new meanings and fresh connotations. Blechman has in turn reinterpreted both Boetti's and Warhol's work, adapting the medium/technique and the symbolic meaning while reversing the function. It's a comment on recycling, the re-use of 'found' work, turning symbols of war into symbols of art. The reclamation of the symbolic value of camouflage from one of war to one of nature and art.

List of Disruptive Pattern Material works:

' DPM: Mappa' 2007 (embroidery on cloth 165 x 115 cm)
' DPM: 3D Pinkland' 2007 (quilted textile applique on cloth 120 x 120 cm)
' DPM: 3D Pop' 2007 (quilted textile applique on cloth 120 x 120 cm)
' DPM: 3D Urban' 2007 (quilted textile applique on cloth 120 x 120 cm)

Regency chaise-longue by Lisa Whatmough in WWII U.S. Army 'duckhunter' camouflage made from the same circular parachute.