"What thou lovest well is thy true heritage" Ezra Pound, Canto LXXXI

"There is no art that can be created by man. Art is but a seed, a bud, a bloom !"

James MacLeish Munroe, court gardener to Queen Anne 1710.

The roadside flowerbeds which spell out a welcome to England's seaside towns are the inspiration for JULIE VERHOEVEN'S 'Saint James In Bloom', a collaboration for Summer 2006 between the Economist, The Contemporary Art Society and Riflemaker.

At the Economist Plaza in St. James', Julie Verhoeven will construct a garden while at the same time deconstructing the idea of it. As willowy watering-cans pour cherry-cola on SW1 concrete, and Barbarella daffodils sprout from brutalist slabs, a psychedelic rainbow will become the prosceneum arch in this unique arborial take featuring familiar and unfamiliar motifs within the poetic concrete Plaza of the Economist. The installation continues along the lines of themes explored in Verhoeven's work at Deitch Projects in New York this spring.

It's worth remembering that although those lovingly-tended beds of pelargoniums and chrysanths - Welcome to Southsea! - may gladden the hearts of the Mums and Dads they also terrify the kiddies!

In a worldwide first for art, one exhibition will literally 'seed' another as visitors to the Plaza will be able to gather seeds from Julie's crazee-colour birds nest sited just inside the Economist foyer and take them along to Riflemaker in Beak Street, Soho, where a seedbed awaits so that they will have time to be sown and germinated in order to bloom by the time of Julie's installation 'Ver-boten, Ver-Saatchi, Ver-heaven' which will be the Riflemaker Frieze Fair exhibition for 2006, (opens September 10th). 'Saint James In Bloom' opens with a ver-nissage on Tuesday 18 July. For more info contact CAS 0207-612-0730 or Riflemaker 0207-439-0000
Julie Verhoeven
Ver-Boten, Ver-Saatchi, Ver-Heaven

Monday 11 September - Saturday 11 November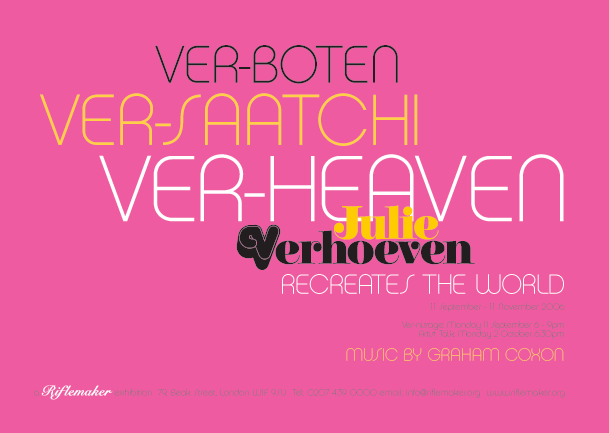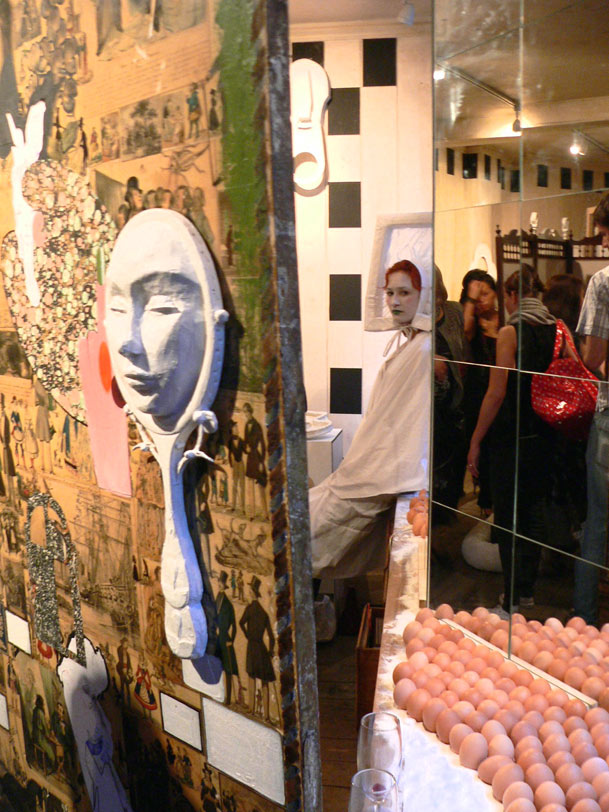 JULIE VERHOEVEN DRAWINGS: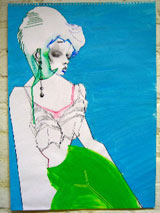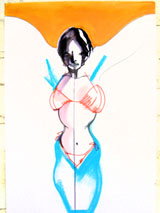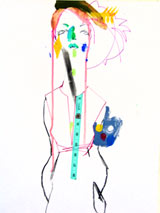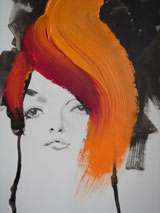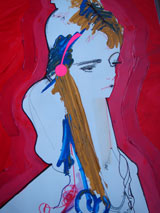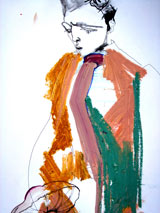 All 55 X 60cm, pencil, crayon acrylic on paper, 2006
JULIE VERHOEVEN CHARACTERS: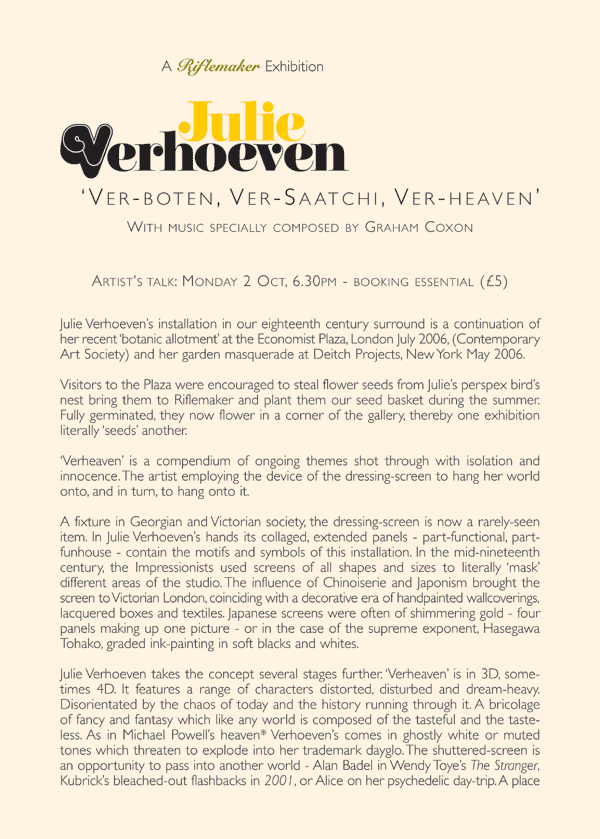 Ver-Heaven opening closes the West End

There was a veritable 'people explosion' on Monday 11 September at the opening of Julie Verhoeven's Ver-Heaven exhibition. After heavy press coverage the previous week some 600-700 artlovers and Julie-fans rocked Beak Street, blocking traffic until police had to be called to clear the main traffic conduit into Regent Street. With the artist herself disguised in Egyption-orange masque and wig visitors were encouraged to draw with chalk all over the pavements from Beak to Lexington while others sipped triple strength capasas before repairing to Fudge Six in Dean Street for the afterparty. Collectors snapped up the dressing-screens and drawings as Riflemaker staff tried to protect Julie's delicate soft sculptures and textiles from the crush - not to mention the 1,000 eggs she had imported from Kent !

'Ver-heaven' continues until Saturday 11 November. Julie Verhoeven talks about her work on Monday 2 October at Riflemaker - booking 0207-439-0000 (7pm & also 8.30pm)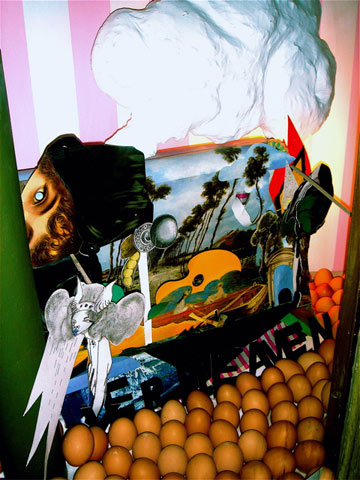 Detail from 'Ver-heaven' window assemblage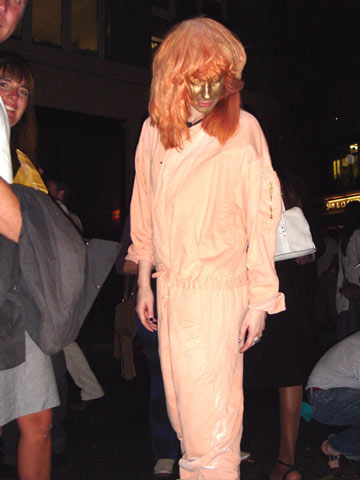 The Artists bedazzled and bewigged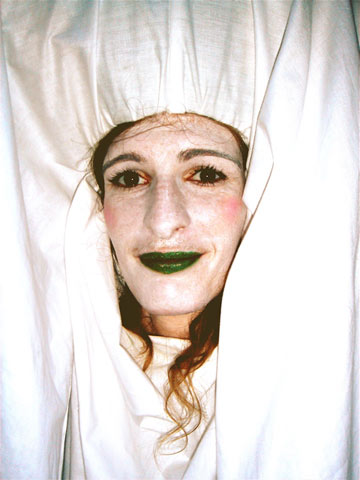 The Angel at the gate of Ver-Heaven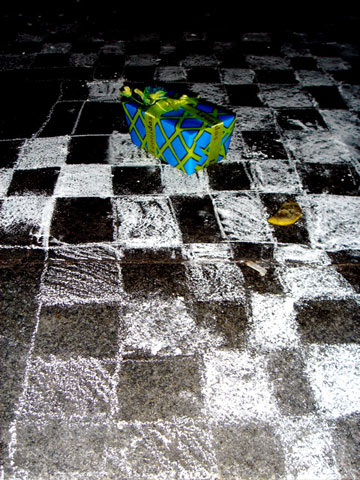 Truffles left for the Artist at 4am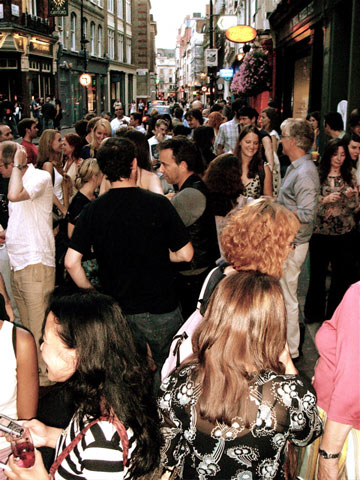 The first wave arrives at 6pm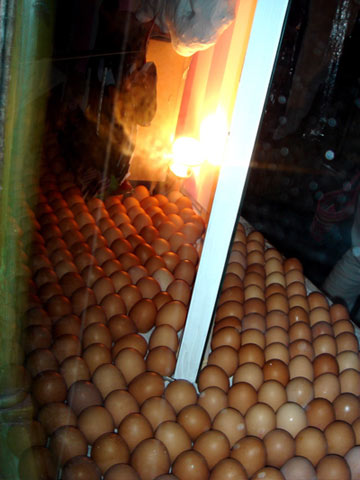 Carpet of eggs
Also at Soho Square, a recently completed suite of Julie Verhoeven drawings.