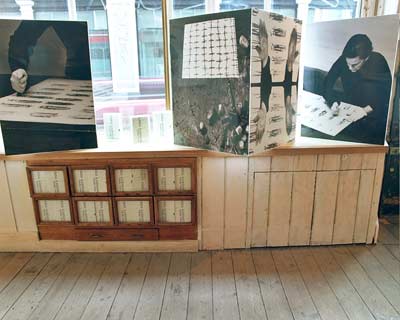 "The essence of true grace is economy" - Samuel Beckett

Linda Karshan - 'Studio View' at Riflemaker, is a look into the private world of the artist's studio. The exhibition looks at the working methods of this American artist, b. Minneapolis, Minnesota, 1947, over a ten year period, 1994 – 2004, by using the premise of an imaginary visit to her studios in South London and Connecticut where she makes her exclusively black and white drawings using the energy of dance, pacing out steps during the actual drawing process to create her trademark lines, marks and grids.

Linda Karshan's reputation as a highly original and very single-minded artist has been steadily growing since the early '90s. She is best known for her drawings with graphite sticks on paper, some of which are large scale.

The only artist ever to have even been given a solo show at the Sir John Soane Museum, Karshan has exhibited in various European cities including London, Munich, Cologne and Bucharest, as well as the United States, and has attracted a dedicated following among critics, philosophers, writers and collectors. She is one of very few artists working today exclusively in black and white.

Linda Karshan in conversation at the Sir John Soane Museum Friday 22nd of October at 6:30 pm. Limited seats so call gallery for booking.