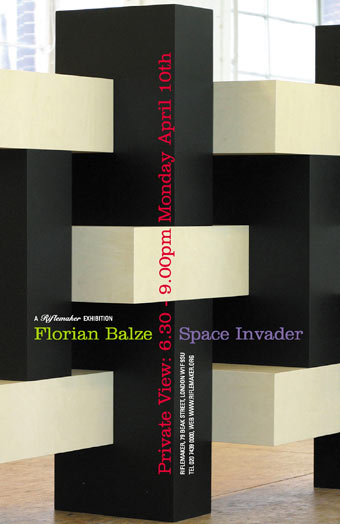 In an experimental show of sculptural intervention, Riflemaker presents the work of Bavarian born, Goldsmiths Graduate, Florian Balze. The exhibition, SPACE INVADER, continues to preview at the German Embassy in Belgrave Square, London SW1, and now currently invades two floors of Riflemaker.

Florian Balze extends buildings. His sculptural works invade ordered space, taking the idea of architectural functionality hostage before seriously abusing it. Using only the most basic of materials: pinewood ply, pre-fab nuts, screws and bolts and hand-dyed coarse cotton-fabric, Balze procures the mundane stock of the builder's merchant and weaves it into chromatically vibrant geometrically anomalous fine art illuminations.

In 2003, for his first site specific commission in the UK, Wannabes & Couldhavebeens (Contemporary Art Society), Balze designed a dramatic sculptural conversion of the Economist Building in London - built between 1959-64 by controversial mid-twentieth century hyper-modernists Peter and Alison Smithson. The structural changes made by Balze to the foyer and central plaza of the building operated via a sort of perceptual alchemy with the viewer's ability to take for granted the safe and ordered visual totality of the architectural field being heavily disrupted by the installation. The space - set in conservative St James's - was invaded by Balze's work, becoming a new, fascinatingly manipulated sphere of external artistic relations.

The project of relocating Balze's work from municipal and public spaces back into a gallery is clearly ambitious, especially when the gallery is a Georgian ex-gunmaker's workshop of intangibly idiosyncratic dimensions. However, the removal of Balze's sculpture from its usual territory presents a fascinating opportunity to view the work on its own terms in abstraction from its usual locale and in the context of a confined, unique architectural space.