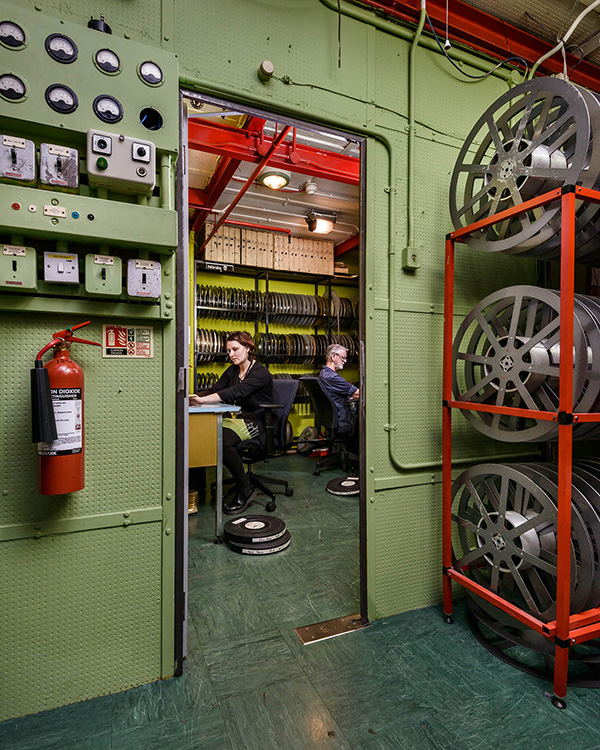 At PHOTO-LONDON at Somerset House in May Riflemaker will continue its investigation into all things ANALOG with the second instalment of photographs by RICHARD NICHOLSON. Where the first exhibition (at Riflemaker 2011) looked at the gradual conversion of our world from analog to digital with a survey of London's fast disappearing photographic darkrooms and recording studios, Part II consists of a series of photographs by NICHOLSON of projection-rooms (in London and Paris) which are also disappearing fast, though some directors, e.g. Tarantino with 'The Hateful Eight', are insisting on an analog (celluloid 70mm projection) presentation. To coincide with PHOTO-LONDON Riflemaker in Beak Street will host an exhibition on the many aspects of this subject in May.
Download "The Projectionists" PDF here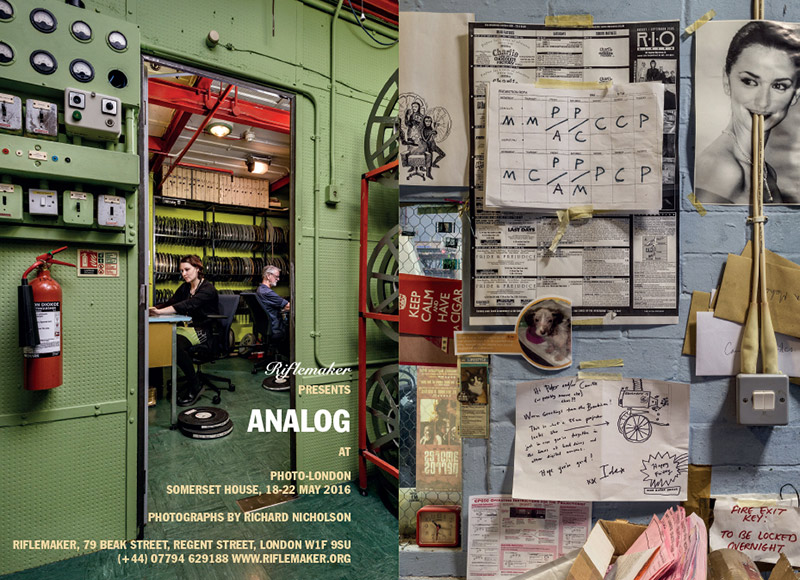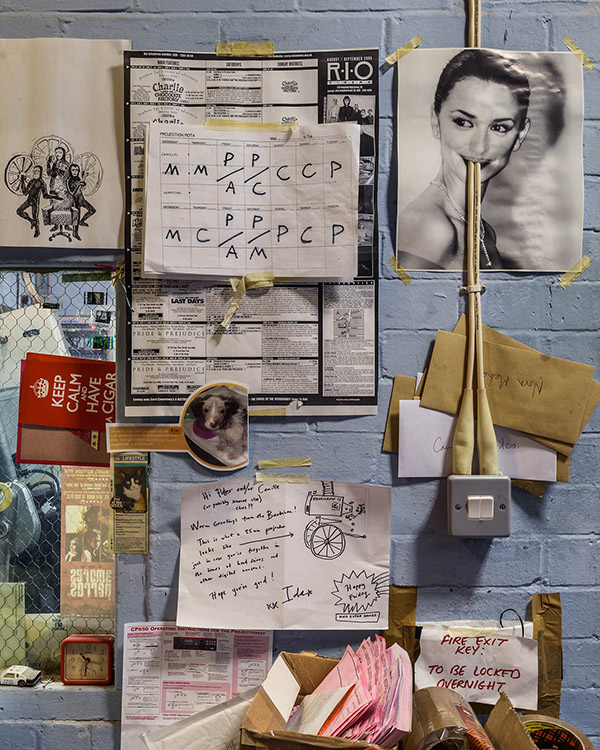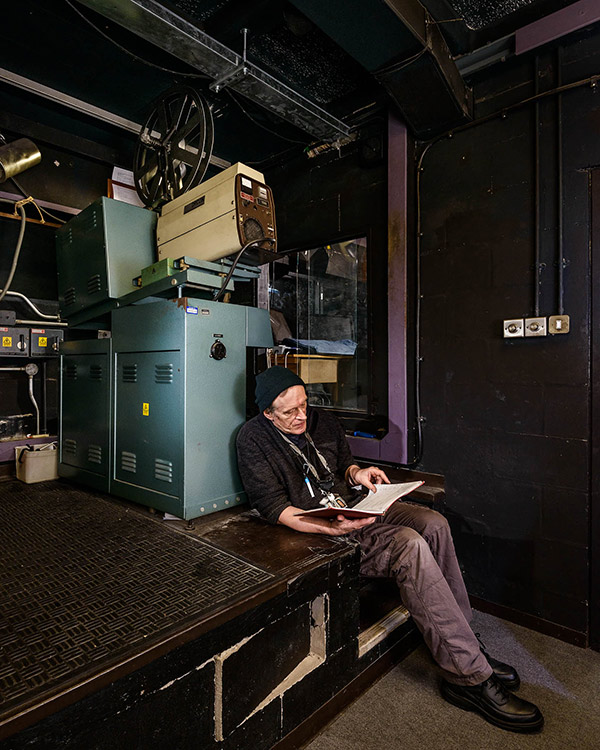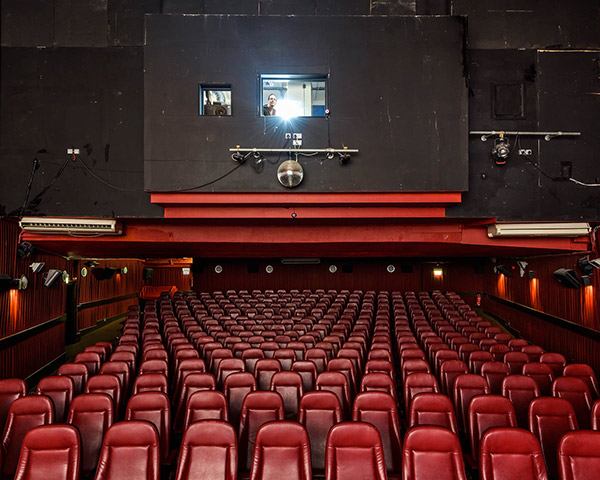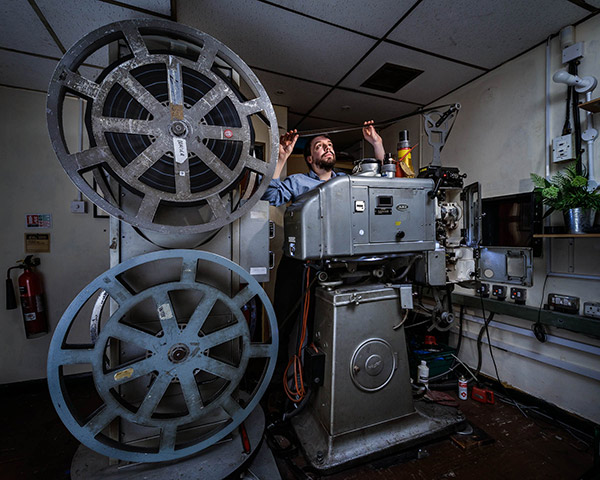 ANALOG
trends in sound and picture

11 January - 5 March 2011
Download the book ANALOG here
Analog: Mono Recording Studio

Now until 17 March
From Friday 4 February: Lewis Durham - of Kitty, Daisy & Lewis - will open his live, customized ANALOG recording studio in our upper lounge.
Book in for your 30 minute session: £30 for the session + £20 for the disc, and cut one song 'direct-to-10" disc' which you can take away with you.
See the booking timetable below: to book email
[email protected]
or call 0207-439-0000
Click here to view the studio bookings timetable
ANALOG is curated by Tot Taylor
For hi-res images for publication pls contact Theresa Simon Communications:
7-734-4800 or after hours: 07792-706-494
Download ANALOG Press Release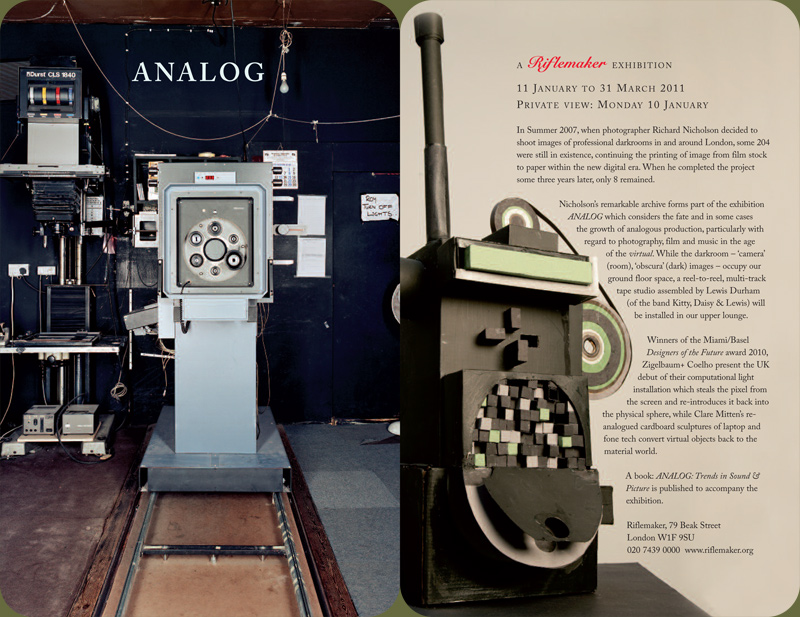 In Summer 2006, when photographer Richard Nicholson began to shoot images of professional darkrooms in and around London, some 204 were still in existence, continuing the printing of image from film-stock to paper within the new digital era. When he completed the project some three years later, only 6 remained.

Nicholson's remarkable archive forms part of the exhibition ANALOG which considers the fate and in some cases the growth of analogous production, particularly with regard to photography, film and music in the age of the virtual. While the darkroom images - 'camera' (room) 'obscura' (dark) - occupy our ground floor, Clare Mitten's re-analogued sculptures of lap and fone tech, which appear to convert virtual gadgetry back to the material world, are upstairs. From Friday 4 February a mono recording-studio assembled by Lewis Durham (of the band Kitty, Daisy & Lewis) will be installed in our upper lounge. Book now to come in and record your own song in one 30 minute session - in mono, cut direct to disc - and take away your own one-off record.

a Riflemaker book ANALOG has been published to accompany the exhibition: price £10

Analog is curated by Tot Taylor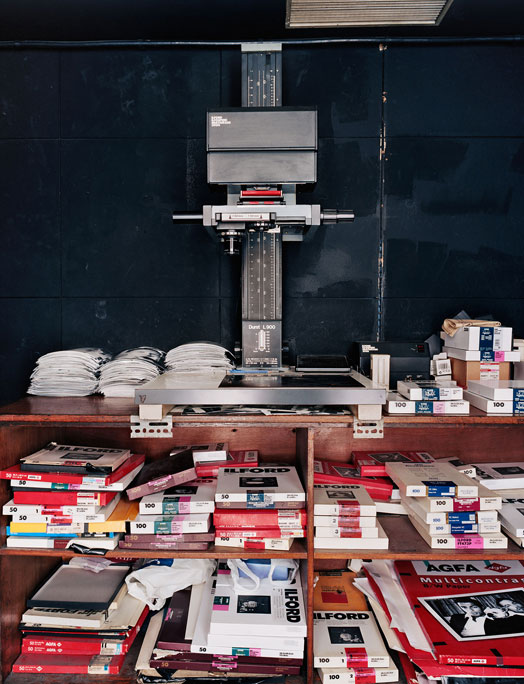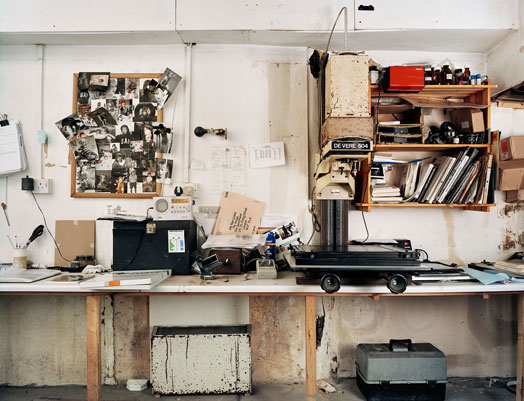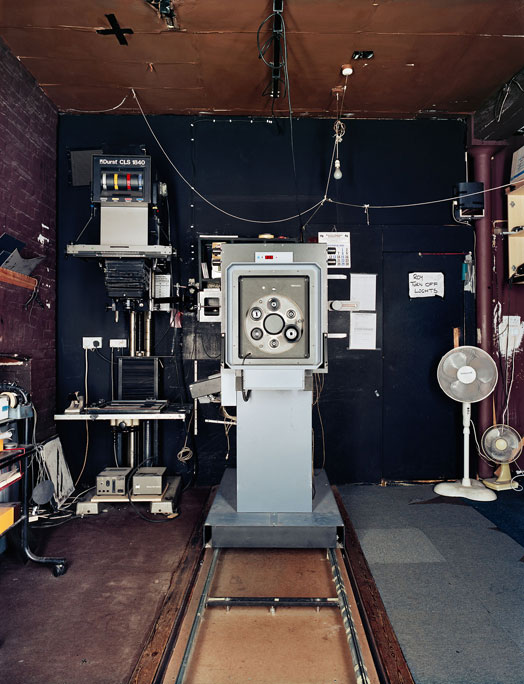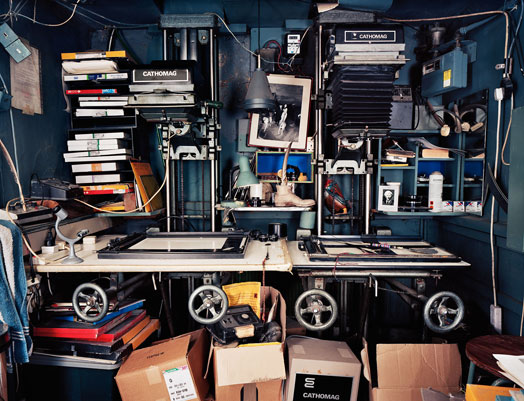 Richard Nicholson: (from top) Gordon Bishop, Peter Guest, Roy Bass, Roy Snell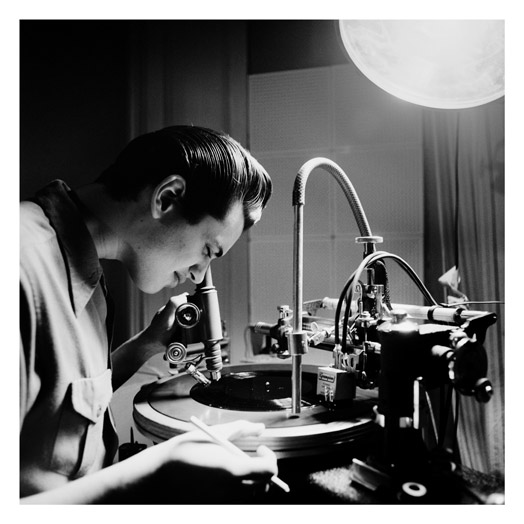 Lewis Durham at the mastering lathe: photo ©Richard Bellia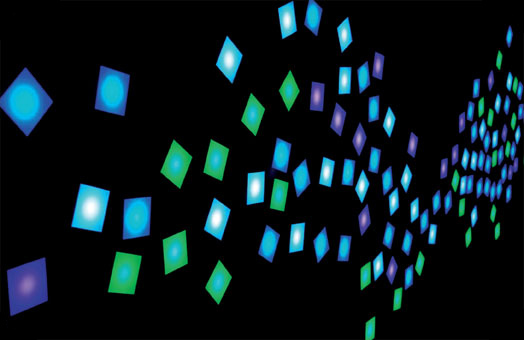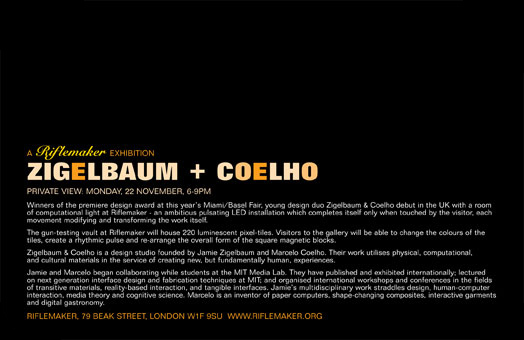 Winners of this year's Design Miami/Basel Designers of the Future award, Zigelbaum + Coelho, present the UK debut of their computational light installation which steals the pixel from the screen and re-introduces it to the physical world. An ambitious, pulsating LED installation completes itself only when touched by the visitor, each movement modifying and transforming the work itself.

The gun-testing vault at Riflemaker will house 220 luminescent pixel-tiles. Visitors to the gallery will be able to change the colours of the tiles, create a rhythmic pulse and re-arrange the overall form of the square, magnetic blocks.

Zigelbaum & Coelho is a design studio founded by Jamie Zigelbaum and Marcelo Coelho. Their work utilises physical, computational, and cultural materials in the service of creating new, but fundamentally human, experiences.

Jamie and Marcelo began collaborating while students at the MIT Media Lab. They have published and exhibited internationally; lectured on next generation interface design and fabrication techniques at MIT; and organised international workshops and conferences in the fields of transitive materials, reality-based interaction, and tangible interfaces. Jamie's multidisciplinary work straddles design, human-computer interaction, media theory and cognitive science. Marcelo is an inventor of paper computers, shape-changing composites, interactive garments and digital gastronomy.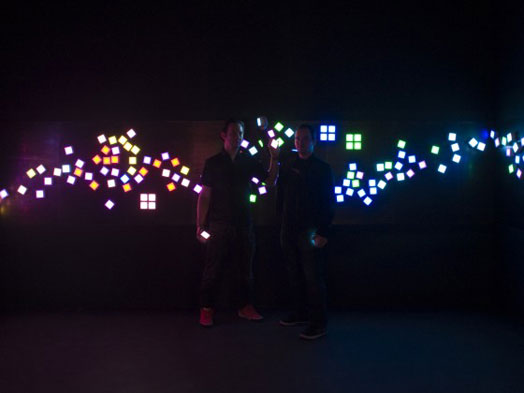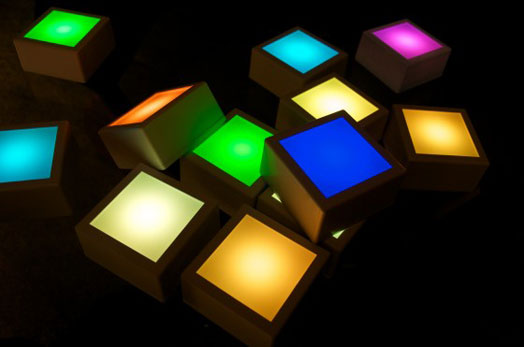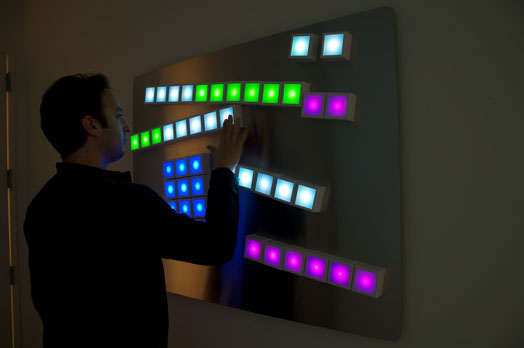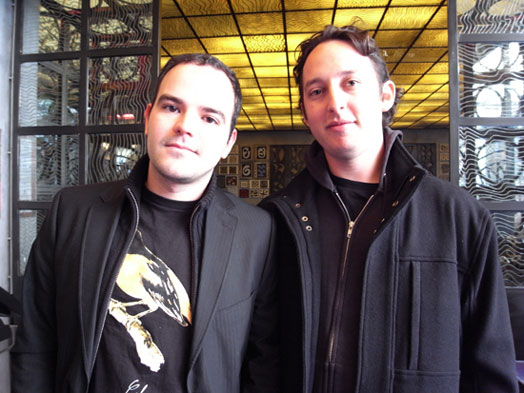 Zigelbaum + Coelho
is a post-industrial design studio founded by Jamie Zigelbaum ( b.1978, Boston, Mass, USA) and Marcelo Coelho ( b.1980, Campinas, Brazil).
Operating at the intersection of design, technology, science, and art, their work utilises physical, computational, and cultural materials in the service of creating new, but fundamentally human, experiences. Jamie and Marcelo began collaborating while students at the MIT Media Lab. They have lectured, published and exhibited internationally.
Jamie Zigelbaum
Jamie Zigelbaum builds and studies next generation computer interfaces, augmented objects, and human experiences. His work is multidisciplinary, straddling design, human-computer interaction, media theory, and cognitive science.
Jamie received a Master of Science degree from the MIT Media Lab in 2008 working in the Tangible Media Group. Before coming to the Media Lab, Jamie received a Bachelor of Arts in 2006 from Tufts University where he majored in Human-Computer Interaction. For his undergraduate thesis he built the Tangible Video Editor (TVE), a physical interface for collaboratively editing video.
Jamie has exhibited and published internationally at human-computer interaction conferences and interactive arts festivals such as TEI, CHI, Ars Electronica, and ISEA. In 2010 he chaired the ACM's international conference on Tangible, Embedded, and Embodied Interaction. He works and lives in Los Angeles.
Marcelo Coelho
Marcelo Coelho is a designer and researcher whose work dwells in the intersection of human-computer interaction, materials science and design. He is an inventor of paper computers, shape changing composites, interactive garments, and edible circuits.
Coelho holds a BFA in Computation Arts, with highest honors, from Concordia University in Montreal, where he was also a Research Partner at XS Labs developing wearable technology and interactive textiles. He is currently based in Cambridge, MA, where he is a PhD candidate at the MIT Media Lab.
His work has been exhibited internationally, at Ars Electronica, Societe des arts technologiques, Gallerie Sequence, Digifest, Dutch Design Week, Collision Collective and Seamless Fashion Show. He has won several grants and awards, including MIT Council for the Arts Grant, VAV production grant, US National Congress on Computational Mechanics Award, Golden Key Visual & Performing Arts Achievement Award, and CHI Best Video Golden Mouse Award.
Academically, Coelho's research has been widely published in books, popular press and academic conferences such as SIGGRAPH, ISEA, ISWC, Ubicomp, TEI and CHI. He has given numerous classes, workshops and public lectures at MIT, Fordham University, Emily Carr University of Art and Design, The Danish Royal Academy of Fine Arts, Banff New Media Institute and Canada's National Research Council.
CLARE MITTEN (b 1972, Gloucester, England)
Clare Mitten's work begins from a curiosity about objects and their 'actual' and 'imagined' appearance in the real world. The artist uses the familiarity of everyday Tech - laptops, mobile phones, projectors, printers - to function as a kind of 'anchor' to hold the world still. The process of attempting to objectively describe something while at the same re-creating it, allows similarities and connections to other disparate ideas about these objects to be playfully explored.
The works consists of a newly constructed (remade) version of each object, in parallel to the real (previous) object. This being a central point/hub by which to leave and then return to. The process of coming and going, flipping between 2D and 3D, construction, painting and collage, all within the general dimension of sculpture, allows for a synthesis of different ways of viewing and understanding this real/unreal combination.
The imperfect edges and folds, the rips and tears, smudges and stains of the handmade, and also the shadows resulting from their placement in the physical world, flicks like a switch between the real and the imaginary, what we expect something to look like, and what we do not expect, bringing artist and viewer back to the sheer hard reality of the surface of things with our own physical domain.
Clare Mitten studied at the Royal College of Art (MA Painting, 2004 – 2006), University of Gloucestershire (BA Hons Fine Art Painting, 1998 – 2001), and University of Sussex (BA Hons History of Art with French, 1990 – 1994). Selected exhibitions include Analog, curated by Tot Taylor, Riflemaker, London, 2011; Pile, curated by Craig Fisher, Chapter, Cardiff, 2011; Double Trouble, Blyth Gallery, London, 2010; Artisterium, Karvasla, Tbilisi, Georgia, 2010; A Curious Context, Lobby, One Canada Square, Canary Wharf, London, 2010; Fault Line: Art in the Age of Anxiety, The Nunnery, London, 2009; Breaking New, Five Hundred Dollars, London, 2009. Awards include the Helen Chadwick Memorial Prize, Royal College of Art (2005) and British Council Artist Residencies to Tbilisi, Georgia (2010) and Dhaka, Bangladesh (2008).
She has been awarded a Jerwood Painting Fellowship 2010 – 2011 and will exhibit at Jerwood Space, London, 11th May – 26th June 2011.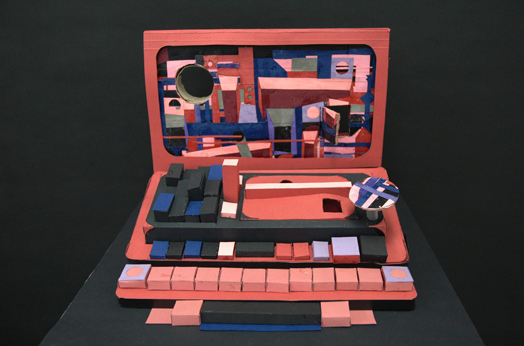 AZTECH_Toppal (Red), 2010, Paper Folders, Paper and Glue, 34 x 28 x 30 cm

AZTECH_Tablet, 2010, Paper Folders, Paper and Glue , 24 x 11 x 10 cm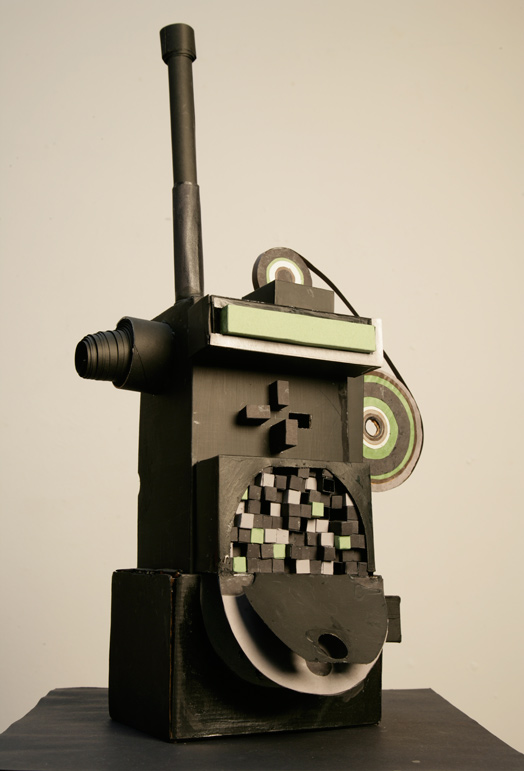 AZTECH_Backup, 2010, Cardboard, Paper, Glue and Blackboard Paint, 70 x 36 x 27 cm