MARTA MARCÉ
Available works
VIEW NEW AVAILABLE WORKS BY MARTA MARCE HERE
.
Selected MUSEUM and GALLERY exhibitions
2016 'Passages': Riflemaker London
2015 'Tejidos': CCE (Centro Cultural Español). Guatemala
2014 'BonArt' Galeria Palma XII. Barcelona
2014 Public Commission: Bristol Royal Infirmary. Commissioned by Willis Newson.
2011 The Government Art Collection: 'Travelling Light', selected by Simon Schama: Whitechapel Gallery, London.
2008 'Games & Theory': South London Gallery, London.
2008 John Moores Painting Prize: Walker Art Gallery, Liverpool.
2008 'Diadem Paintings': Riflemaker 2, Soho Square, London.
2007 'Is This Abstraction': Camden Arts Centre, London. (Residency)
2007 'Slipping Abstraction': Mead Gallery, Warwick, England.
2007 'New British Painting: Part I': John Hansard Gallery, Southampton, England.
2003 'The Bold amp; the Beautiful': New Art from London: Carnegie Gallery, Hobart, Australia.
2001 Jerwood Painting Prize, London.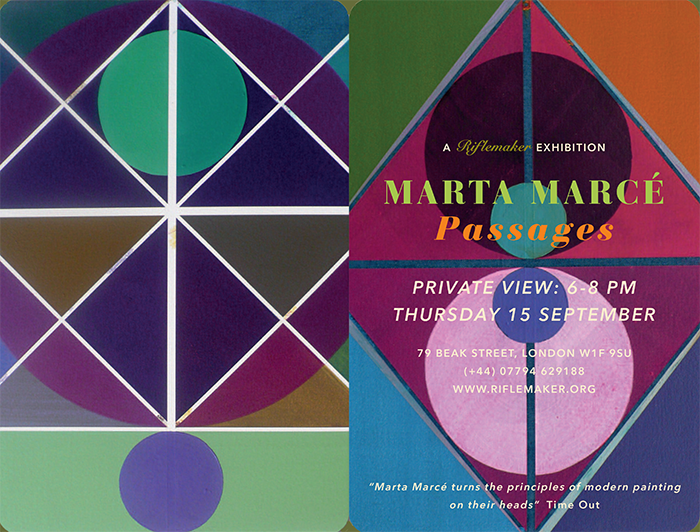 PRESS RELEASE
MARTA MARCÉ
PASSAGES
PREVIEW THURSDAY 15 SEPTEMBER 2016 - EXHIBTION THRU SEPTEMBER & OCTOBER

"She turns the principles of modern painting on their heads"
Rebecca Geldard, Time Out




Exhibition: Thursday 6 August - Saturday 12 September

Marta Marcé is a Catalonian born, Berlin-based artist whose work is inspired by both the appearance and the process of games. The shapes, colours and sections of the artist's multicoloured canvases are often arranged and placed much like pieces on a gameboard or puzzle. Marcé (b. 1972 Vilafranca del Penedes, Spain) says:

'My use of games is like a metaphor for the structure and development of life itself, an activity with an uncertain outcome. The act of painting functions in a similar way - there are the boundaries of the canvas, the limitations of paint, the conceptual constraints of actually making a painting, and finally the environment in which they are shown'

This series of new works was inspired by the artist's recent journey to Guatemala, where she learned about Mayan cosmology (the origin of the cosmos) and its symbols, as well as readings of the philosopher and mystic, Ibn 'Arabi.

The Mayan philosophy was believed to have been animatistic, meaning that objects we consider to be inanimate, to the Mayan people, had spirit. Ibn 'Arabi was a 13th century Andalusian Sufi mystic, poet and philosopher who is regarded as one of the world's great spiritual teachers. His writings had an immense impact throughout the Islamic world and beyond. The universal ideas underlying his philosophical thinking are as relevant today as they were when he first wrote them down 800 years ago.

The artist seeks to express a desire, a necessity even, to acknowledge living energy in her work. Marcé's paintings are visual representations of the dialogue between the most basic energy of life and its interconnection to all things. It is a dialogue that the artist believes enhances existence and she seeks to illustrate this through creating works that are shaped by visual rhythms of colour and geometric patterns that are also aesthetically beautiful. The intertwining of symbols within the works represent a type of consciousness - whether it be the artist's, ours or indeed those from so long ago that have echoed across the centuries and inspired this series of new works.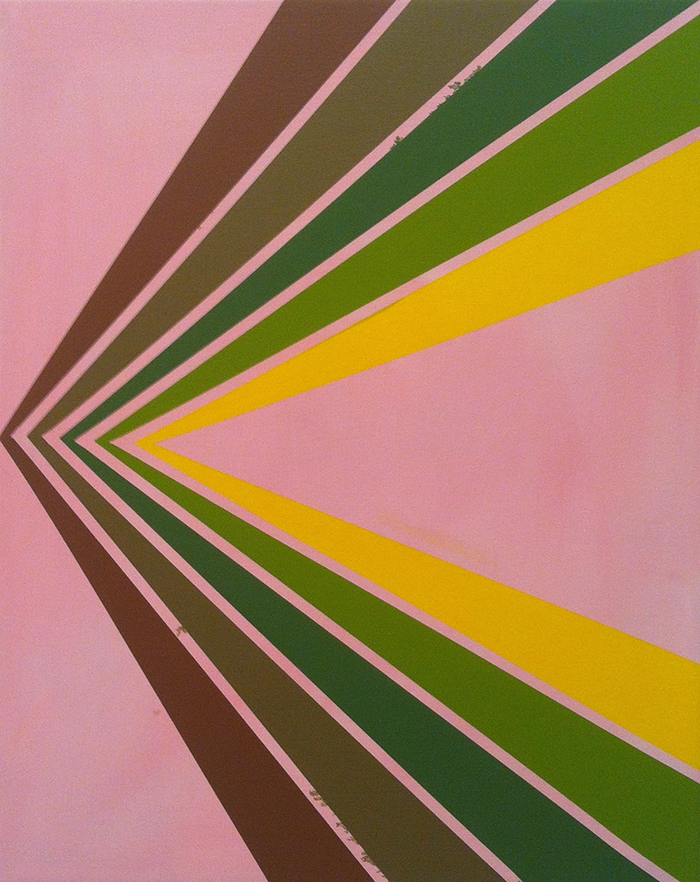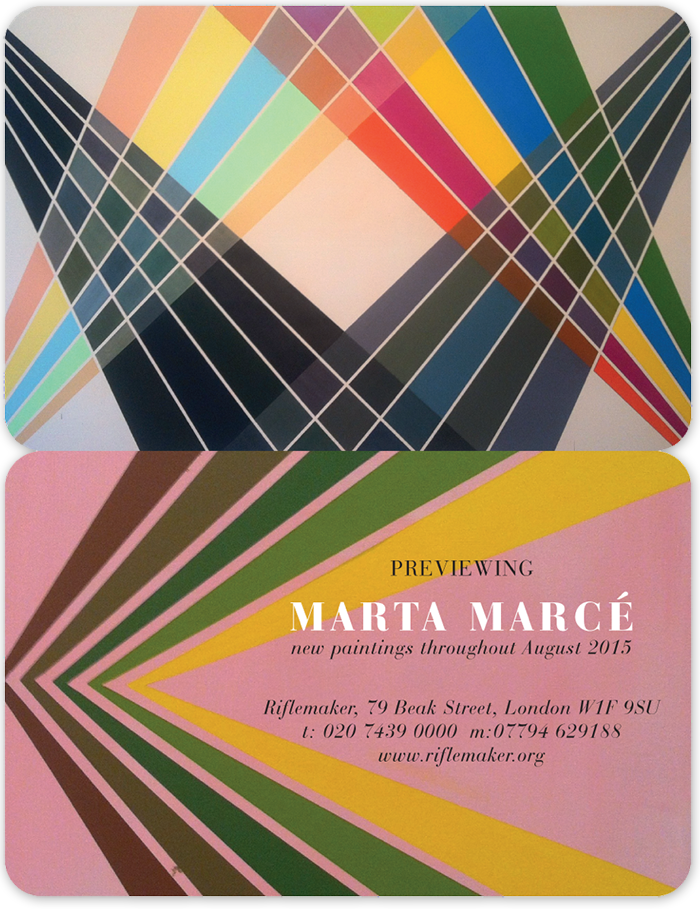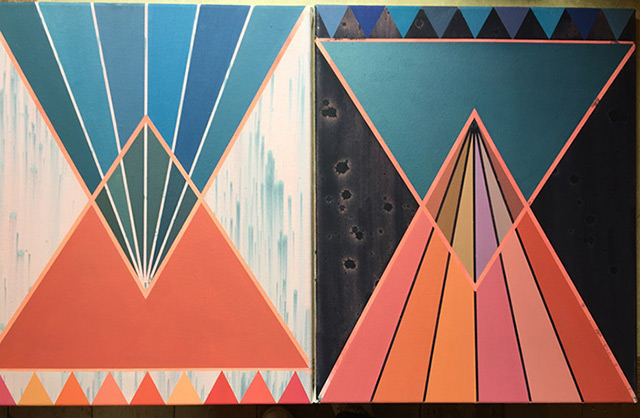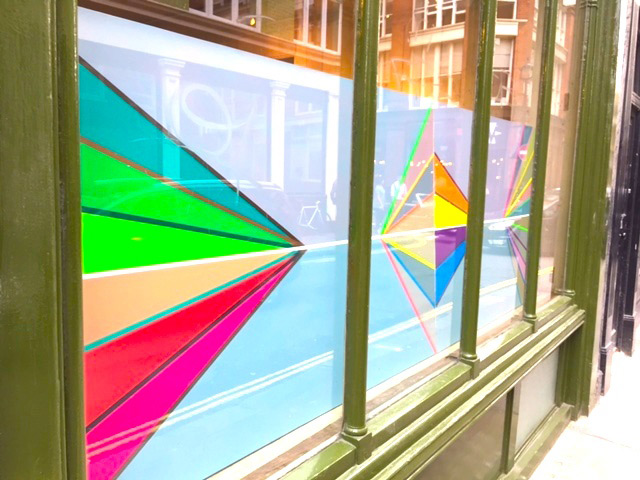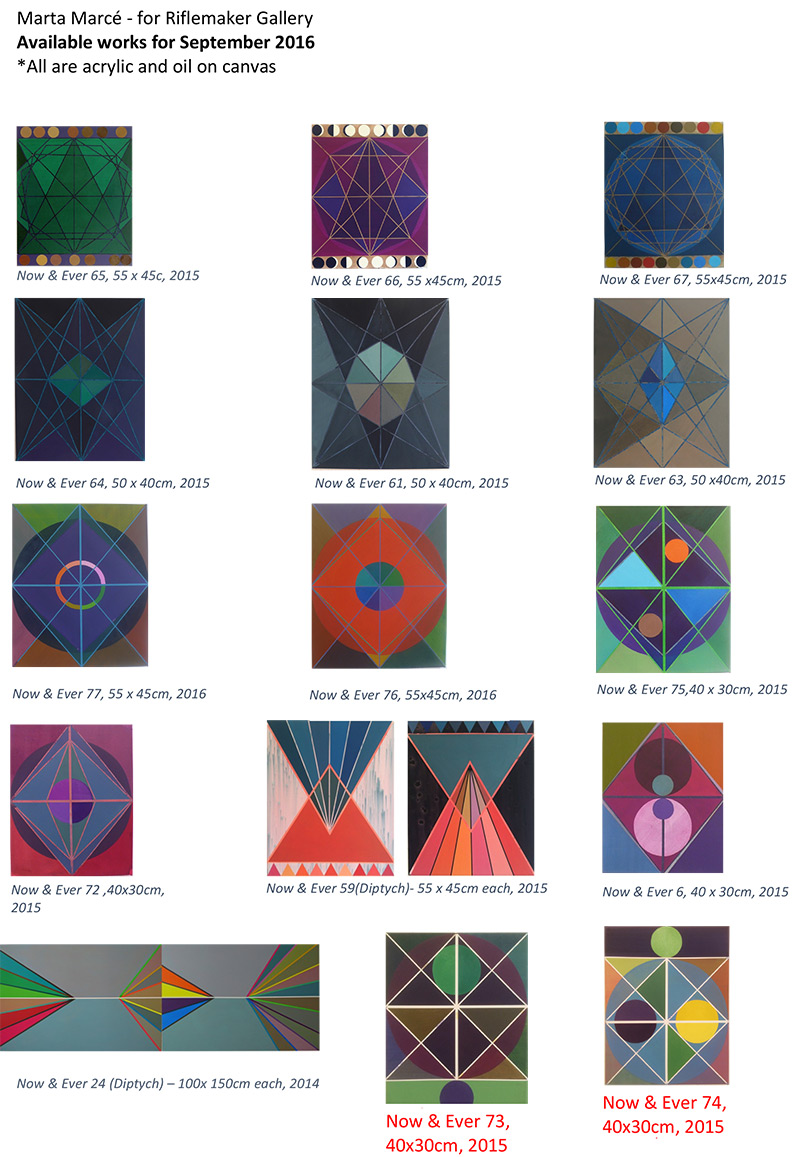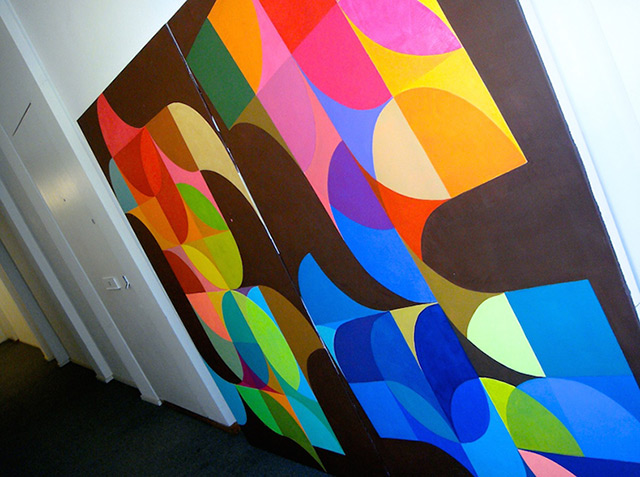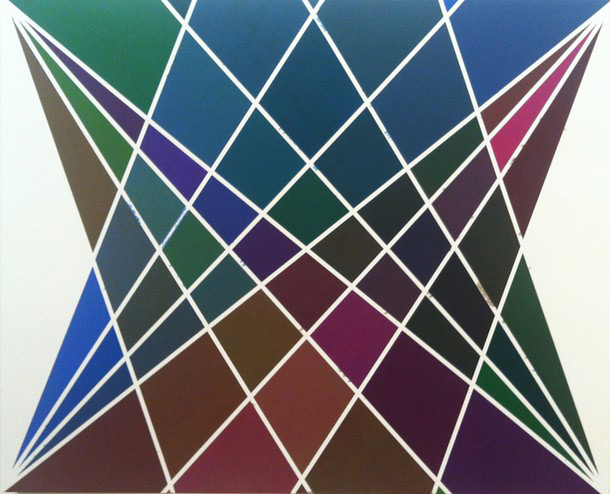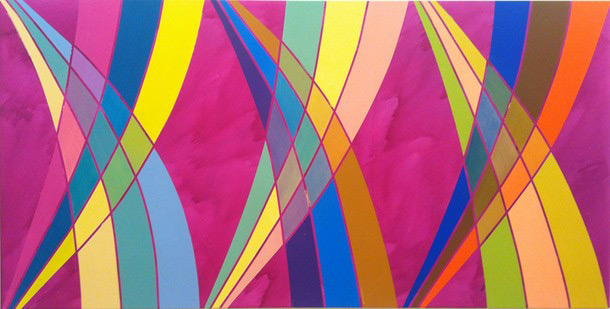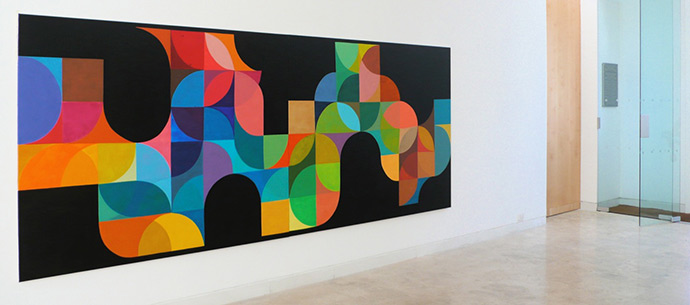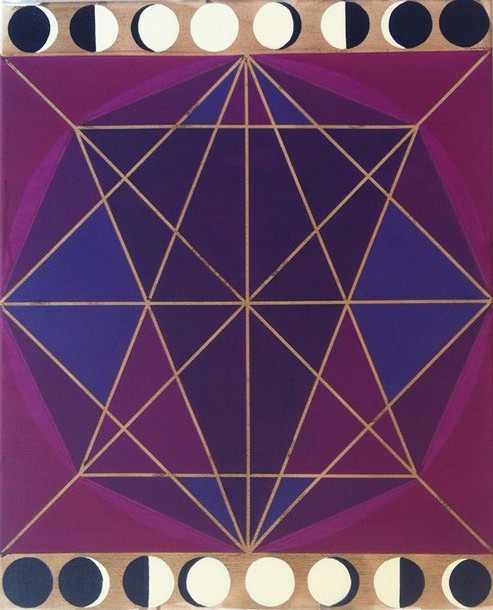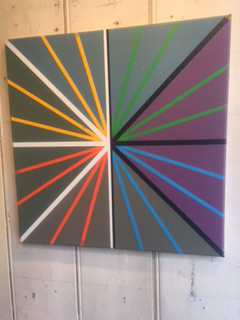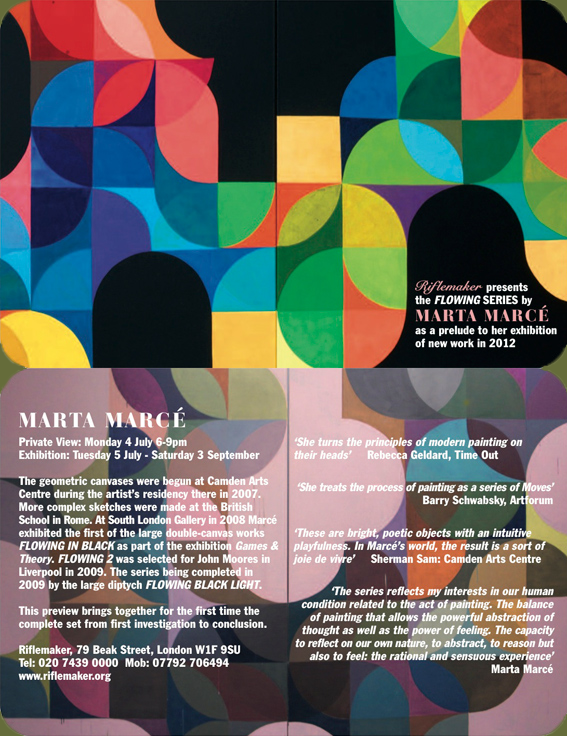 "I am interested in the idea of play as a metaphor for how society operates. We live in an era where daily life is becoming ever more structured, planned and controlled. It feels as if there exists a complex group of games with rules and laws to follow while at the same time there are rule-breakers and alternatives to the system.
I am exploring how games can function in a similar, parallel way and the relationship of that idea to my work. As well as in painting, games have space and time limitations, decision-making and chance are also involved. I investigate how these diverse elements can inform my creative production of art.
Rules can provide a basis for painting, issuing instructions and outlining strategies. At the same time decision-making, chance and judgement allow the breaking of the system, hopefully enjoying fresh and direct creative actions, opening up new possibilities for the outcome.
The use of basic geometric shapes reinforces a universal understanding, while at the same time these are not rigid painted shapes. I also use non-geometric shapes, suggesting more the human activity in the artwork.
Colour and its different qualities are an important aspect of my practice. I treat colour as an evolving experimentation within our cultural and visual context"
MARTA MARCE
Marta Marce's paintings don't namecheck anyone, or picture anything, or evoke a mood...a painting resembles a scalextric set...I kept coming back to it, and it looked better every time.

Jonathan Jones, the Guardian


Marta Marce's work is a highpoint in the show of work by artists shortlisted for the Jerwood Painting Prize.

Charles Darwent, The Independent on Sunday
Pasajero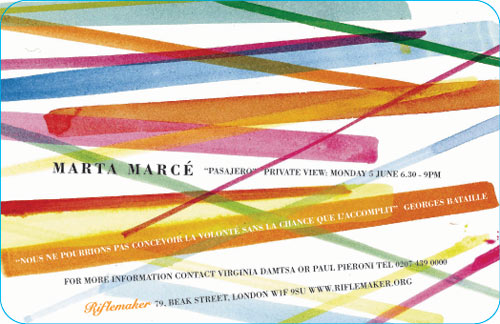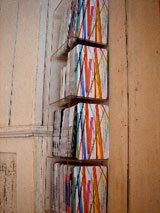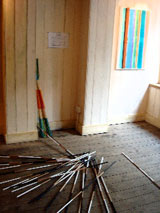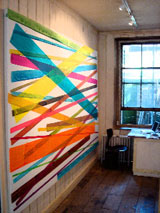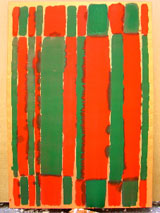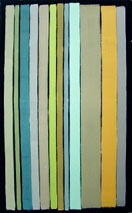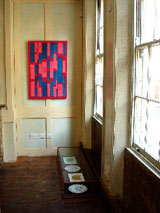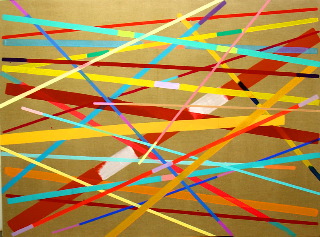 In her second solo show at Riflemaker - a bold new exhibition of large scale paintings and floor works, Catalonia born, London-based artist Marta Marce continues her previous conceptual investment in game theory and universal methodologies of play by exploring the relationship between the dual forces of order and chaos as they manifest themselves in the play of the ancient stick game of Mikado.

In Pasajero, using the given framework of Mikado, wherein players cast sticks in order to read their destiny in them, Marce conducts and exploits her painterly mode to unearth, in every line and colour decision, something fundamentally visual in the idea of the game. It is in Mikado that Marce sees a perfect demonstration of the fundamental balance of binary forces in the world, the game here representing an energetic example of the complex states of life in which we are all continually engaged.

In casting down our lot - by playing the game - we actively engage the dual forces of order and chaos.

This idea is equally extendable to the microcosm of the painter's world. In painting, via practice-based development, the rules of medium are established and a methodological order is set. Ever existent however, is the potential to challenge this order through the spontaneous gesture and passionate movement of inspired creative action. Marce then, as an artist who continues to reinvent her painterly medium with an unceasing zest and originality, is at one with this schism, understanding both order and chaos as necessarily coexistent forces.

Considering these works then, we must appreciate a three-fold relationship between, the game, painting and life itself. By investigating this trinity, Marce re-energises her work with a beautifully raw essential force.

A clear and apparent élan reels from outwards from Marce's canvases, and now In a new development, for the first time in London, she introduces a three dimensional element into her oeuvre - with one of the central works in the show being a fully interactive version of Mikado.

So come, play and discover how Marta Marce - through her exploitation of game dynamics - relates some fundamental realities intimate to the ecology of existence itself...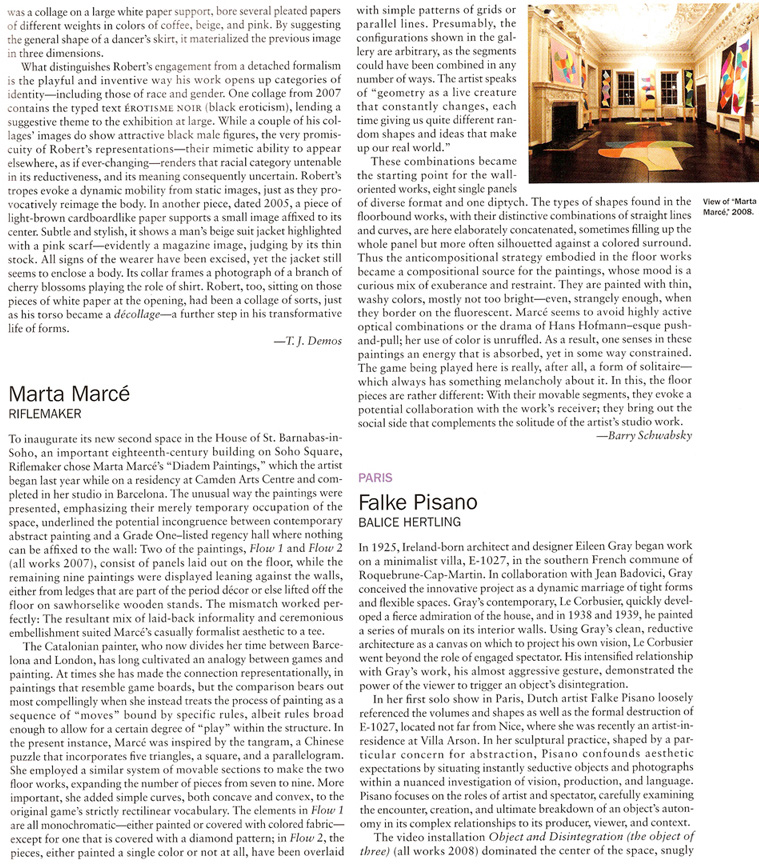 Diadem Paintings review courtest of ArtForum
FOR MORE INFORMATION PLEASE CONTACT VIRGINIA DAMTSA AT TEL 0207 439 0000 / E
[email protected]
MARTA MARCE OPENS THE SECOND RIFLEMAKER SPACE

MARTA MARCamp;Eacute;
(b. 1972, Vilafranca del Penedes, Spain)

3 December - 8 February, Soho Square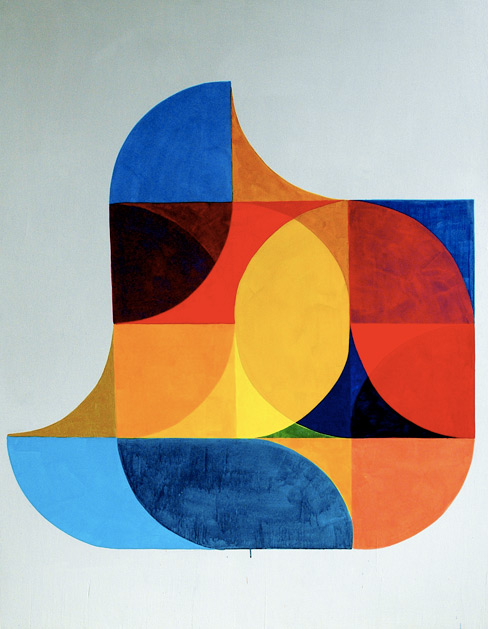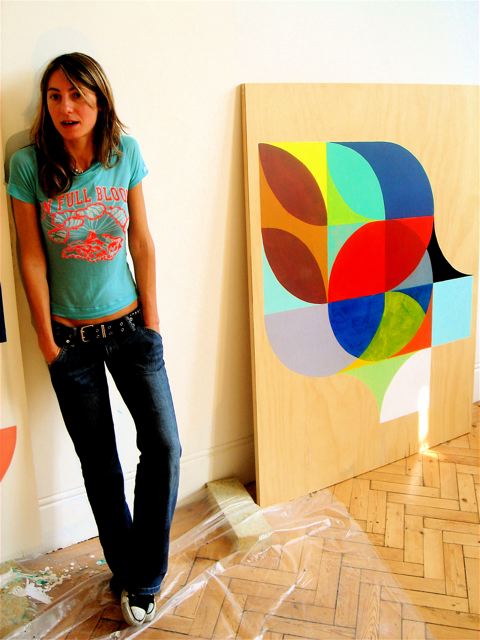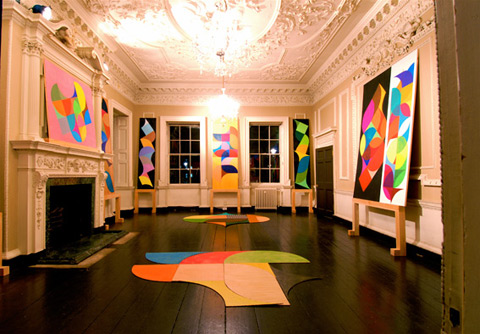 Marta Marcé (b. 1972, Vilafranca del Penedes, Spain)
is known for her paintings inspired by games. For the opening of Riflemaker, Soho Square, in November, Marcamp;eacute; will present a series of canvases painted in the artist's studio at Camden Arts Centre this summer.

"The subject of these paintings is obviously the game, but the object is colour, gesture and form. The result of adding the two is happiness, and this is what Marcé brings us" Sherman Sam (CAC catalogue).

"She turns the principles of modern painting on their heads" Rebecca Geldard, Time Out

Pictured: 'Flowing' paintings from the Diadem series, acrylic on mdf or silk, 122 x 160 cms, 2007

We have just opened a second gallery on the first floor of a Grade One listed mansion on the corner of Soho Square. The building, from 1746, was formerly a hostel for the destitute of St.Anne's Parish. The Riflemaker exhibition space is situated at the top of a 'crinolene' staircase so named because its wide railings are shaped for the width of 18c ladies skirts. It comprises three main rooms, the former Withdrawing Room, Council Room and Records Room. The house has a private chapel within a walled garden where Charles Dickens once sat beneath the mulberry bush as he began to compose 'A Tale of Two Cities'.

Riflemaker Soho Square opens to the public
Monday 3 December, 2007
Some notes on the Diadem paintings by Marta Marcé...

"Mainly I was thinking of geometry and the game Tangram which uses geometric shapes to create recognisable forms. I wanted to use these shapes to create multiple-use geometric figures. Geometry is one of the keys to this new series, but it is, as always in my work, an unsettled geometry, not at all rigid or intending to be completely perfect. I want to show how it can be a 'primary element' from which all shapes can be constructed and realised. I have tried to think of geometry as a live creature that continually changes, each time giving us quite different random shapes and ideas which make up our real world. Life is movement and I started the floor pieces thinking about a movement that the visitor can also interact with. The floor pieces entitled Flow 1 and Flow 2 are like a moving, developing painting within which people can move the shapes to create variations, deciding on the different relationships of colour and design. Overall movement is achieved in the resultant paintings by making a series of them. Each one shows a possible interaction of these geometric figures whilst at the same time introducing a unique rhythm/interference of colour.

Energy is constantly transforming the elements and this energy is contained in forms and colours. In the paintings, the activity/movement balances control with chance, giving an uncertain result. Colours are neither pure nor impure, neither beautiful nor ugly. I see colour as light that impacts on forms and materials. Therefore, light conditions will affect our vision of these colours and our vision of reality.

My use of games is like a metaphor for the structure and development of life itself, an activity with an uncertain outcome. The act of painting functions in a similar way - there are the boundaries of the canvas, the limitations of paint, the conceptual constraints of actually making a painting, and finally the environment in which they are shown. I use and also manipulate basic systems and rules of games of my own. The structures these rules provide are always the starting point of my work and are used to issue instructions and strategies in the making of the paintings. But I also allow an element of chance and self-determination to enter the process in order to introduce playfulness in the face of what can otherwise be a quite constrained activity.

I communicate visually the way I think life is, trying to balance order and freedom, trying to express the energy of life through the experimentation of colour and the manipulation of basic shapes. It is always geometric in some way, but painted leaving a human trace"

Marta Marcamp;eacute;, Barcelona, November 2007
MARTA MARCE: Marta Marce installation at Riflemaker. Acrylic paint on silk on wicker disc supports. Work made during the artist's residency in China 2005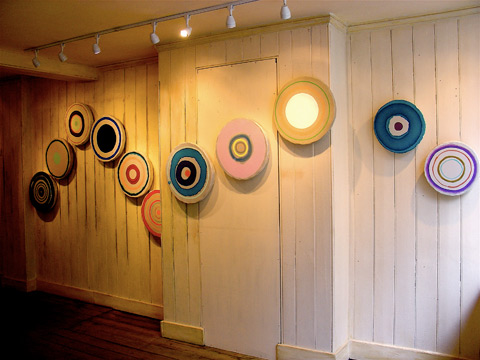 MARTA MARCE
from Monday 4 July - Saturday 10 September
Download hi-res images for press use here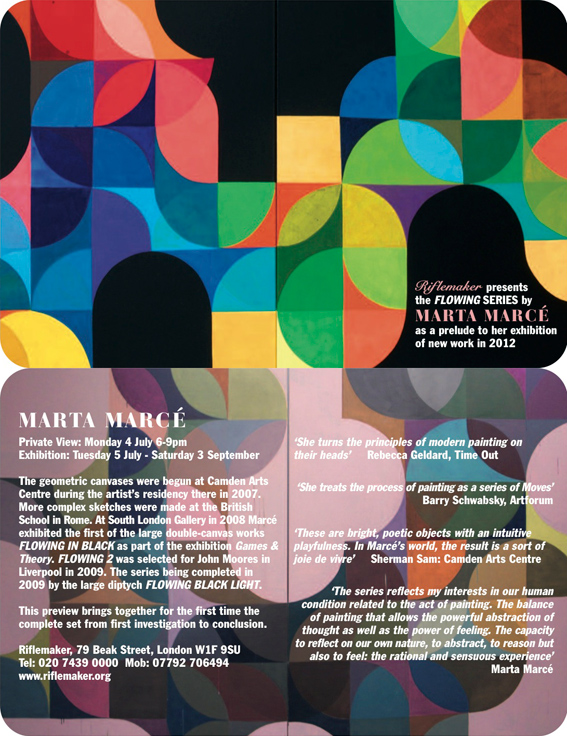 Riflemaker presents

the Flowing series

MARTA MARCE

as a preview to her exhibition of new work in 2012.

The geometric canvases were begun at Camden Arts Centre during Marce's artist residency there in 2007. More complex sketches were made at the British School in Rome. At South London Gallery in 2008 she exhibited the first of the large double-canvas works 'Flowing in Brown' as part of the exhibition 'Games amp;amp; Theory'. 'Flowing 2' was selected for inclusion in John Moores in Liverpool in 2009. The series being completed in 2009 by the large diptych 'Flowing Black Light'.

This preview brings together for the first time the complete set from first investigation to conclusion.

"She turns the principles of modern painting on their heads"
Rebecca Geldard, Time Out

"She treats the process of painting as a series of Moves"
Barry Schwabsky, Artforum

"The paintings are bright, poetic objects abundant with an intuitive playful ness. In Marcé's world, the result is a sort of joie de vivre"
Sherman Sam: Camden Arts Centre, exhibition notes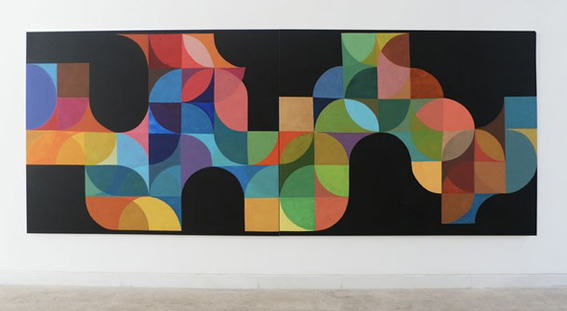 Flowing in Black (2009) 170 x 400 cm (diptych), acrylic on canvas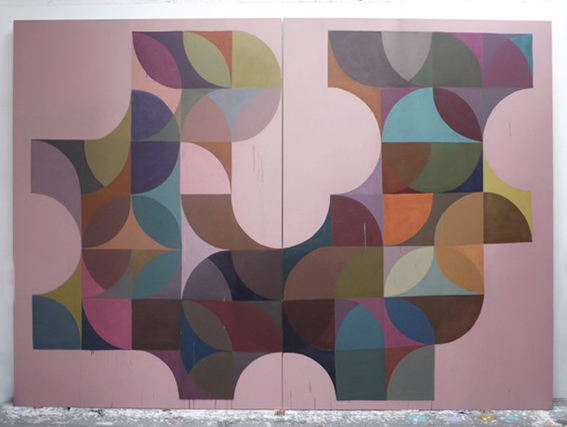 Flowing Black Light (2009) 240 x 340 cm (diptych), acrylic on canvas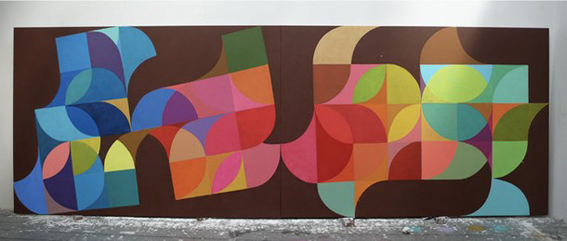 Flowing in Brown (2009) 135 x 390 cm (diptych), acrylic on canvas
Marta Marce says:
"This series reflects my interests in our human condition related with the act of painting. The balance of painting that allows the powerful abstraction of thoughts as well as the power of feeling. The capacity to reflect on our own nature, to abstract, to reason but also to feel: the rational and sensuous experience."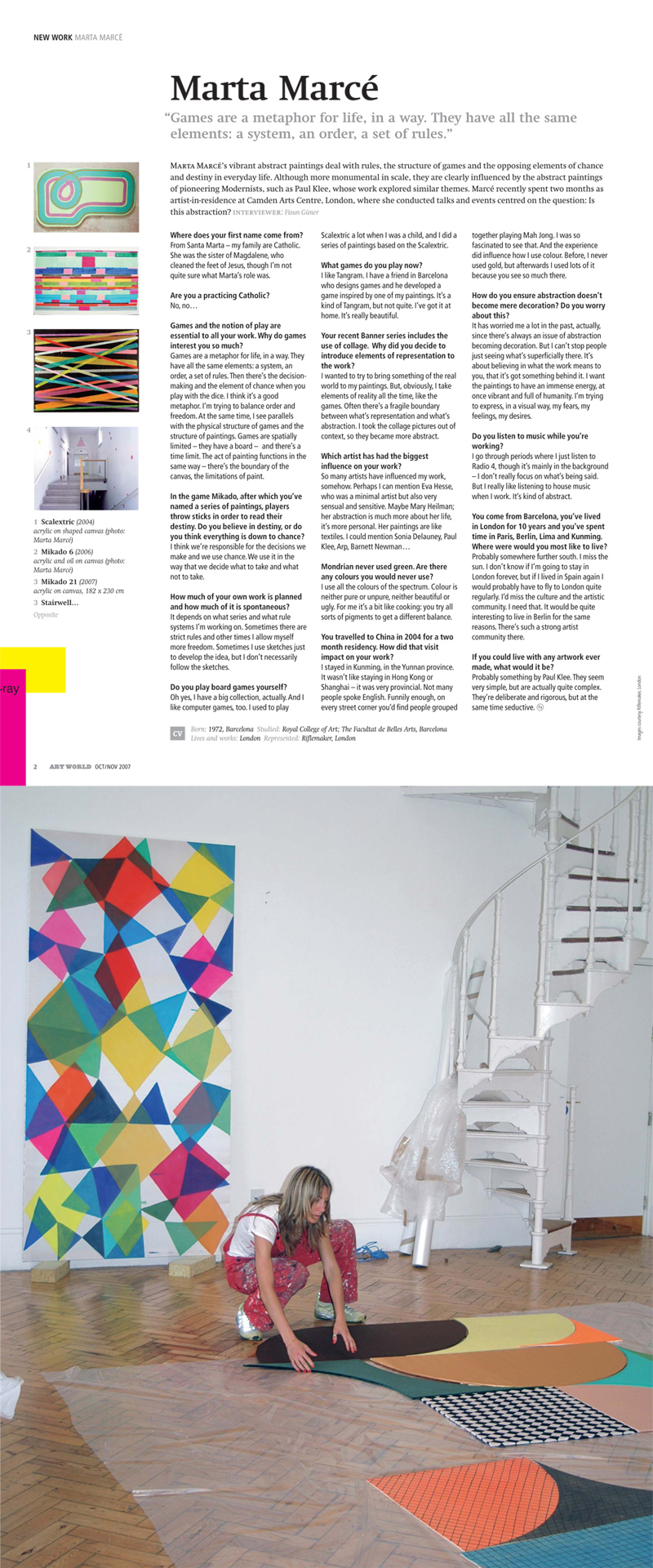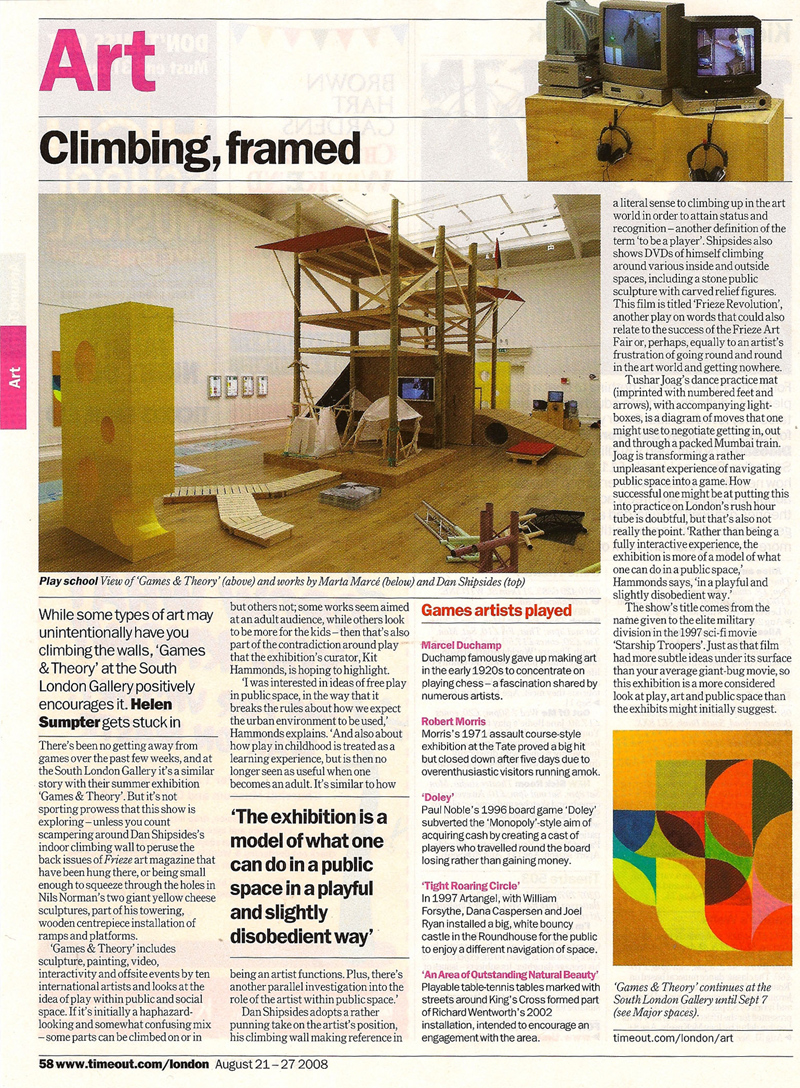 Further exhibitions