From 2012-2016 Riflemaker exhibited JUDY CHICAGO's 'works from The Dinner Party' including drawings and ceramics from The Dinner Party project (1973-1979) as well as the artistís seminal 'carhood' paintings (also exhibited at Tate Modern in 'The World Goes Pop' 2015).
See below for further details and
pdf of available works here
.
JUDY CHICAGO
solo presentation announced
Frieze Masters
Riflemaker stand S9
view the available works here
"
For me, she is America's most important living artist
"
Edward Lucie-Smith, Huffington Post, November 2012
view the press release here
click here to view the works in the exhibition
"For me, she is America's most important living artist"
Edward Lucie-Smith, quoted in The Huffington Post, November 2012
Click to download JUDY CHICAGO press release
Curators or writers seeking hi-res images please call
Alice Broughton at Theresa Simon Communications 0207-734-4800
Direct link for Judy Chicago images
http://theresasimon.com/press/detail.php?id=19148
Above is the direct links for press to access images:
Users need to fill in their contact details to access the folders.
To download the images, double click on each thumbnail to open the full size version and right click to 'Save As'
BIOGRAPHY
Judy Chicago is an artist, writer and activist whose work has set the agenda for women's art over the past five decades. A pioneering force who came to prominence during the late 1960's and early 1970's, she helped re-shape the male-dominated art landscape by creating innovative work from a woman's perspective - reacting to social and political injustice during revolutionary times.
Her art and her ideas continue to exert a palpable influence on generations of women artists who came after her. In 2011, her contribution was recognised and in some ways rediscovered during Pacific Standard Time, the California-wide celebration of the history of the L.A. Art Scene which saw sixty cultural institutions collaborate in one six-month long initiative (pacificstandardtime.org/) and featured work across various media by Judy Chicago. The artist is widely represented in museums and public collections worldwide.
JUDY CHICAGO: 'Before
Womanhouse
: Ms Chicago and the California Boys'
by Andrew Perchuk, deputy director, Getty Research Institute, Los Angeles
click to read the essay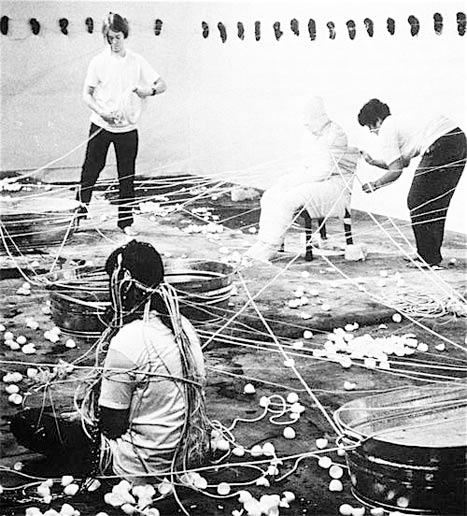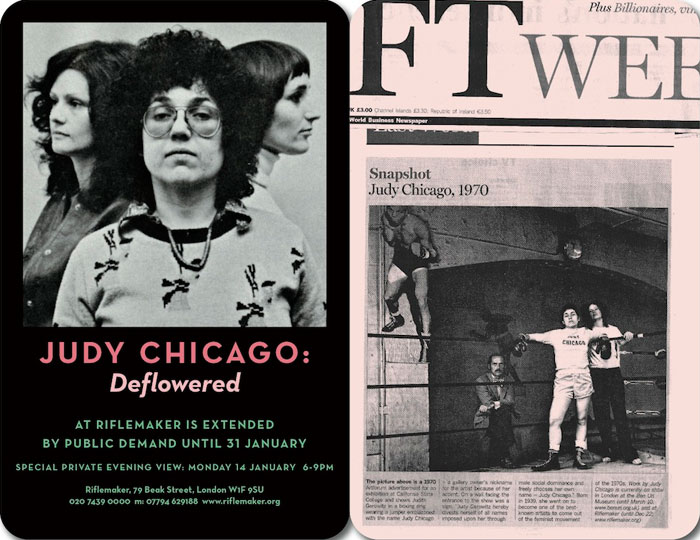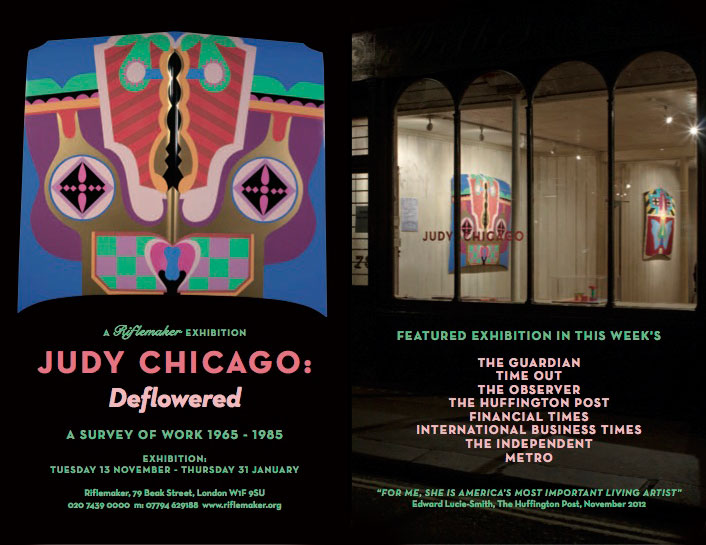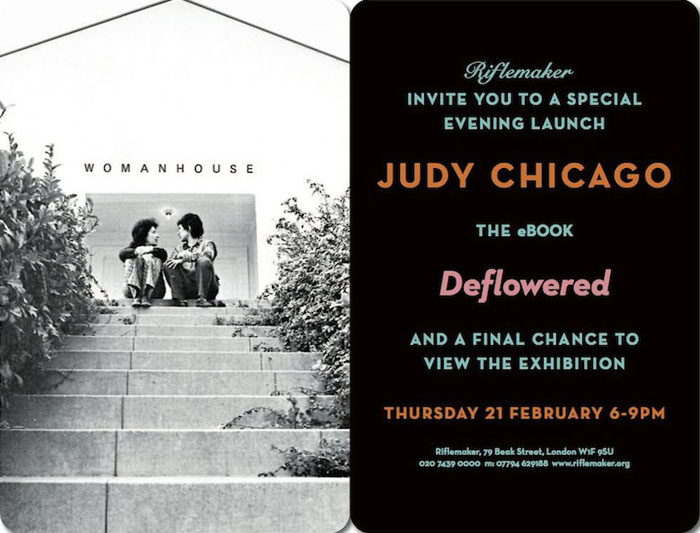 JUDY CHICAGO: 'Plates and Ceramics from The Dinner Party' with new photography
from China by GRAHAM FINK on the ground floor 'BALLADS of SHANGHAI'
and paintings by WEN WU, MARTA MARCE and JOSEPHINE KING in our VIEWING-ROOM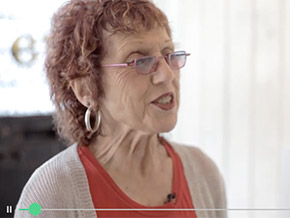 The JUDY CHICAGO exhibition includes:
Historic drawings, gouaches, sculptures and ceramics from the 1960's and 1970's which relate to the carhood sculptures by JUDY CHICAGO at Tate Modern in their just-opened exhibition 'THE WORLD GOES POP'.
Please open the pdf of
available works here
The works at Riflemaker in Beak Street include test-plates and ceramic goddesses from The Dinner Party (1979)
along with drawings for the accompanying textiles and runners.
The exhibition is open from 11am - 7pm Monday to Friday and 12-6pm on Saturday.
for sales enquiries 07794-629-188 or 07719-745-766
for hi-res press images or other enquires please call 07794-629-188
Riflemaker 0207-439-0000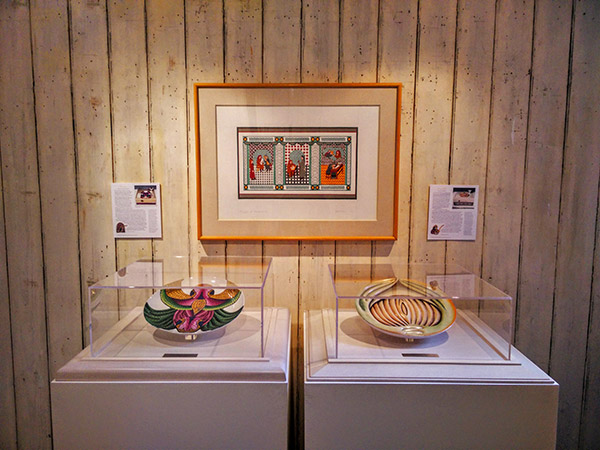 JUDY CHICAGO

Ceramic goddess small sculptures from 'The Dinner Party' (1977)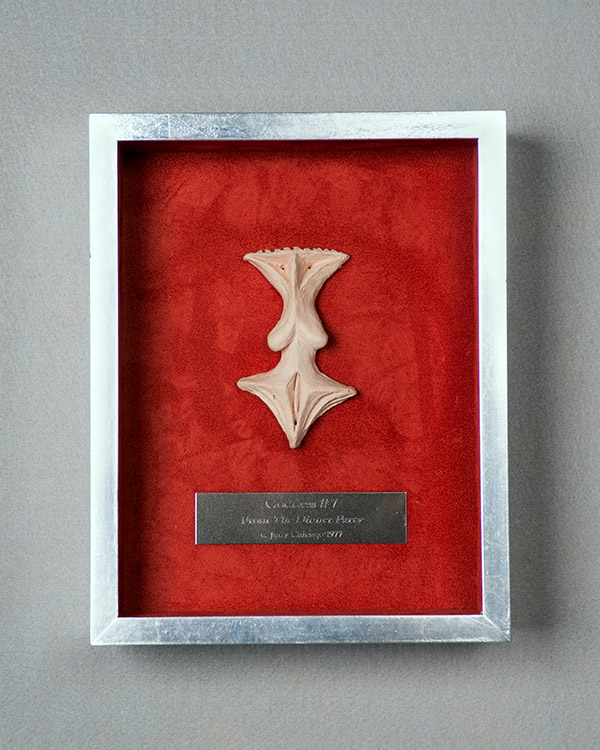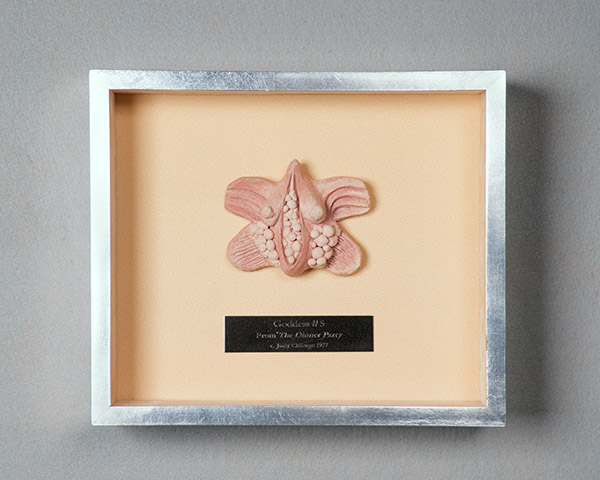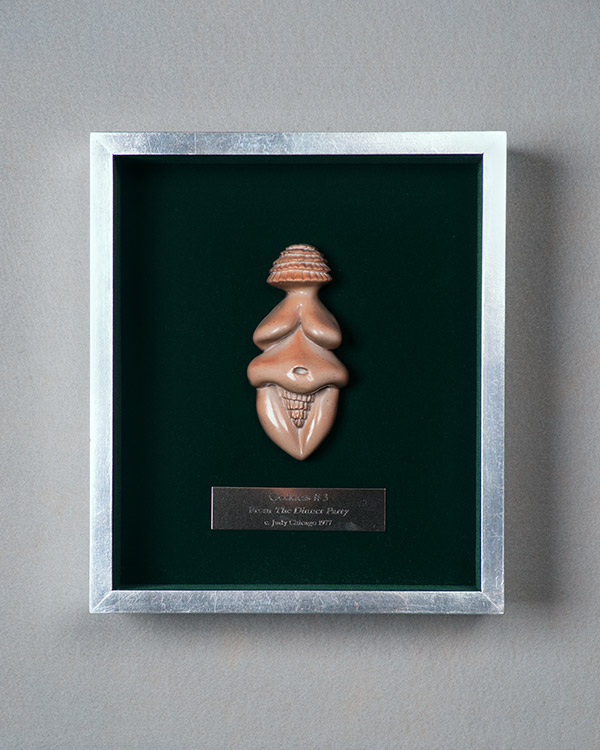 JUDY CHICAGO

Five Butterfly Test-Plates (1973-1974)

china paint on porcelain

15.5 x 82.88 x 19 ins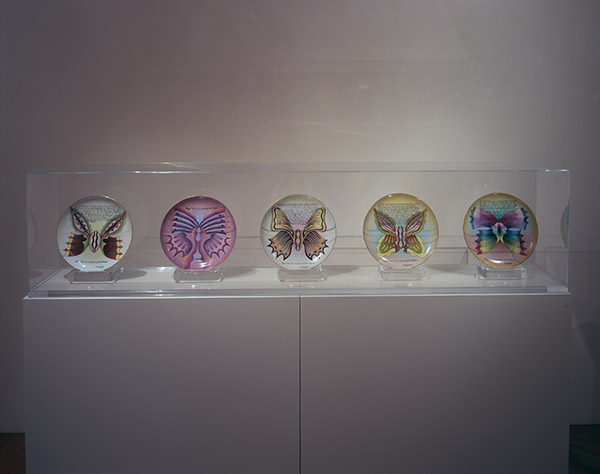 JUDY CHICAGO: to speak to the gallery on sales or on press information please call: 07794-629-188 or 07719-745-766


BIOGRAPHY

Judy Chicago is an artist, writer and activist whose work has set the agenda for women's art over the past five decades. A pioneering force who came to prominence during the late 1960's and early 1970's, she helped re-shape the male-dominated art landscape by creating innovative work from a woman's perspective - reacting to social and political injustice during revolutionary times.

Her art and her ideas continue to exert a palpable influence on generations of women artists who came after her. In 2011, her contribution was recognised and in some ways rediscovered during Pacific Standard Time, the California-wide celebration of the history of the L.A. Art Scene which saw sixty cultural institutions collaborate in one six-month long initiative (pacificstandardtime.org/) and featured work across various media by Judy Chicago. The artist is widely represented in museums and public collections worldwide.

JUDY CHICAGO: 'Before Womanhouse: Ms Chicago and the California Boys'
by Andrew Perchuk, deputy director, Getty Research Institute, Los Angeles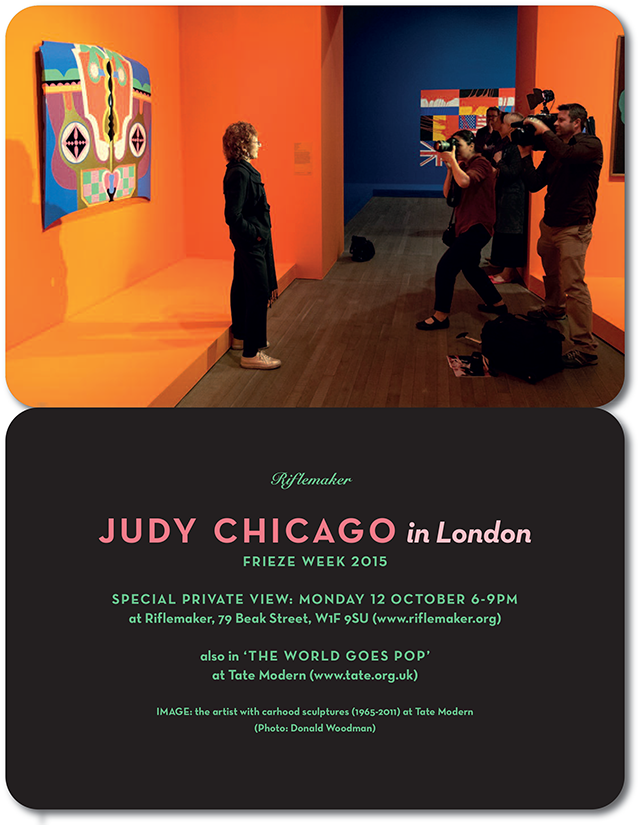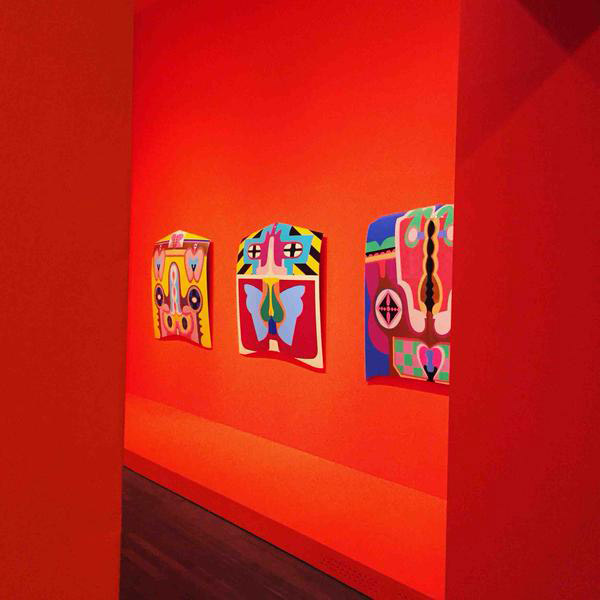 The current exhibition also includes test-plates from 'The Dinner Party' (1974-1979)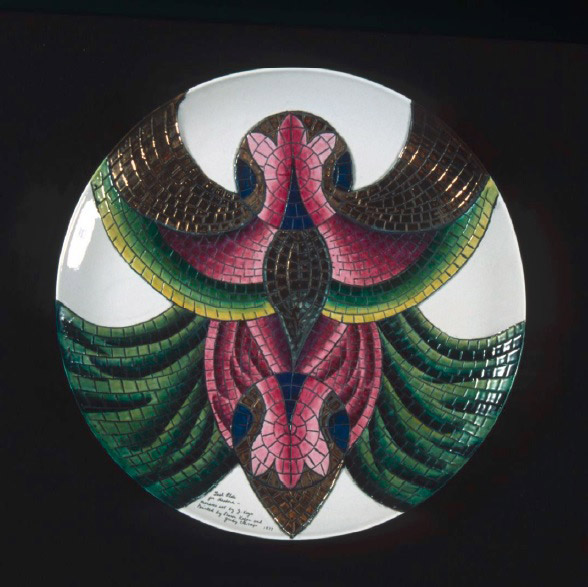 JUDY CHICAGO
'Theodora' Test-Plate #7 from 'The Dinner Party' (1975-1978)
china paint on porcelain,
14 in diameter x 1.5 in. depth (35.6 x 3.2 cm)
bespoke perspex mount and case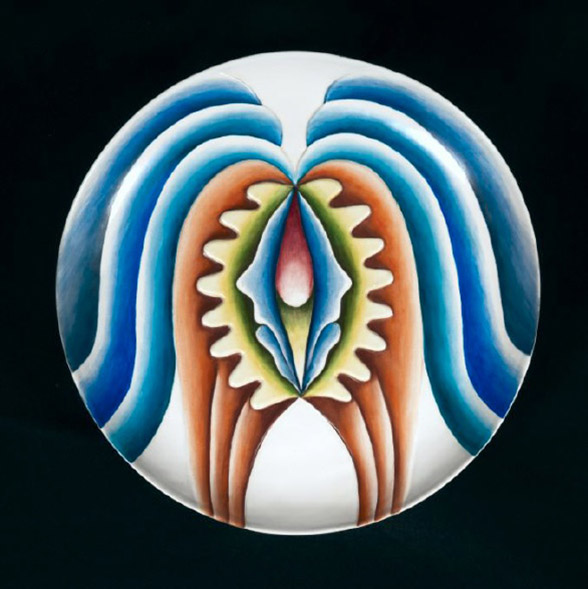 JUDY CHICAGO
'Hatshepsut Test-Plate' #3 from 'The Dinner Party' (1975-1978)
china paint on porcelain,
13.75 in diameter x 1.25 in depth (35 x 3.2 cm)
bespoke perspex mount and case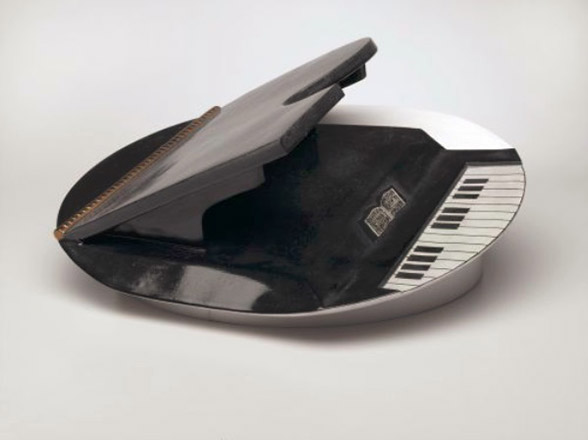 JUDY CHICAGO
'Ethel Smyth Test-Plate' #3 from 'The Dinner Party' (1973-1974)
china paint on porcelain,
4 x 12 x 14 in. (10.2 x 30.5 x 35.6 cm)
bespoke perspex mount and case
The carhood sculptures are currently being exhibited at Tate Modern in 'The World Goes Pop'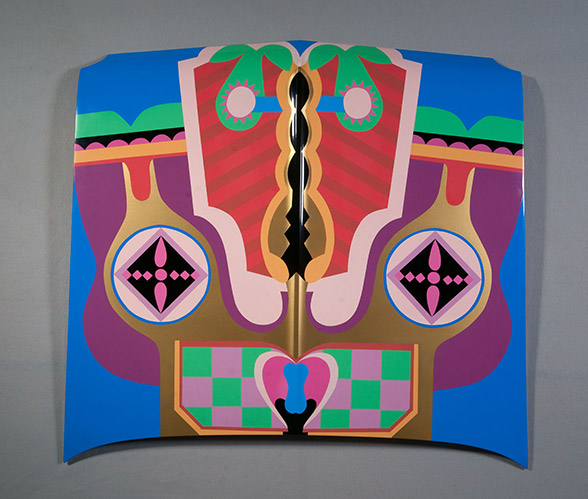 JUDY CHICAGO
'Birth Hood' (1965/2011)
sprayed automotive lacquer on carhood
42 9/10 x 42 9/10 x 4 3/10 in. (109.2 x 109.2 x 10.8 cm)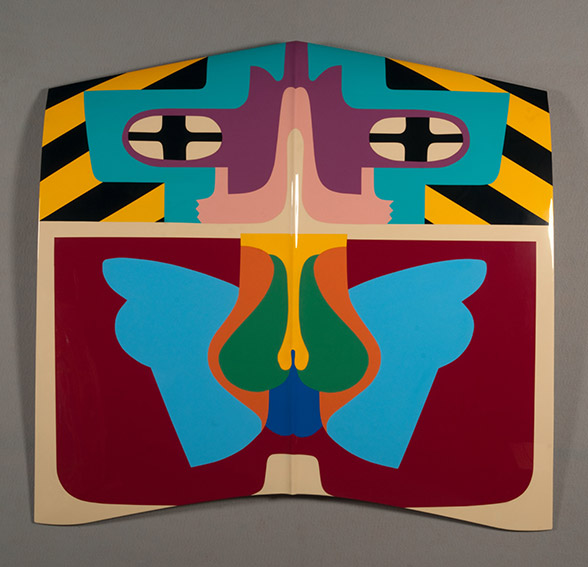 JUDY CHICAGO
'Flight Hood' (1965/2011)
sprayed automotive lacquer on carhood
42 9/10 x 42 9/10 x 4 3/10 in (109.2 x 109.2 x 10.8 cm)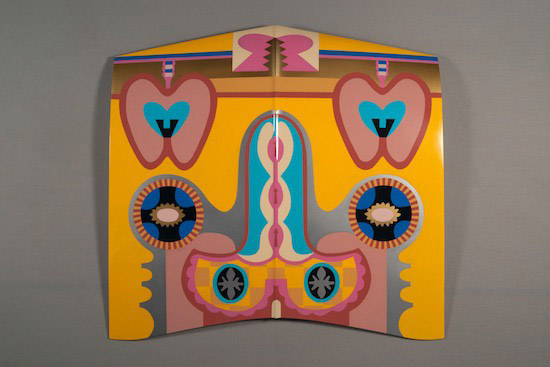 JUDY CHICAGO
'Bigamy Hood' (1965/2011)
sprayed automotive lacquer on carhood
42 9/10 x 42 9/10 x 4 3/10 in. (109.2 x 109.2 x 10.8 cm)

all photographs copyright Donald Woodman